I finally got to my cottage. And there is a harvest of peaches. What could be more delicious than fresh pancakes with sour cream and fragrant fruit for breakfast?
I read the recipe for oatmeal pancakes in the book of a famous nutritionist. As it turned out, raw oatmeal in various dishes is very useful for digestion. And the finished dish turns out very unusual, with a slight nutty aftertaste.
I added peaches to the oatmeal. They feel very good in pancakes. The acidity of this fruit gives some kind of refreshing touch.
I cooked pancakes for breakfast, with sour cream and good mood. But this recipe is great for dinner, when you count every calorie. Oh, I know it by myself, so I propose a low-calorie pancake recipe.
Cooking time – 20 minutes. The complexity of the recipe is very easy.
1. For starters, I found a suitable dish at the cottage. In a bowl, beat eggs with sugar.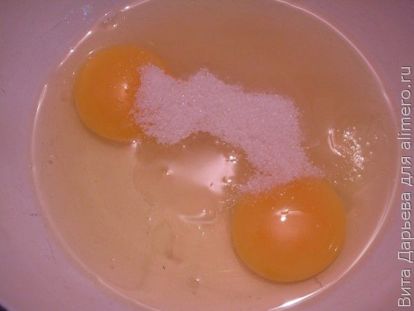 2. Then added sour cream to this mixture. Well mixed, introduced soda. It in combination with sour sour cream will give pancakes pomp.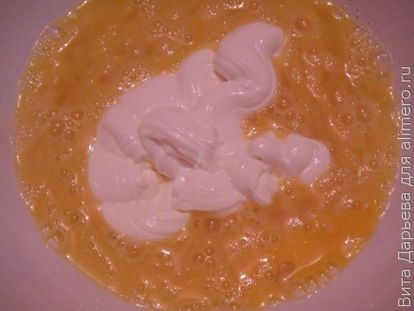 3. Introduced oatmeal into this mass. Mixed and left them to swell a little for 5 minutes.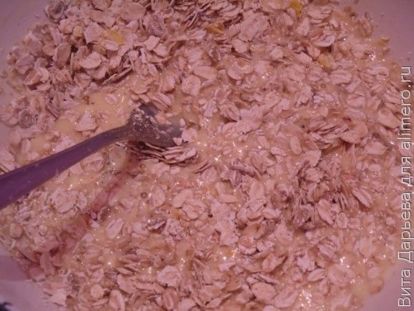 4. Peaches peeled and cut right into the bowl.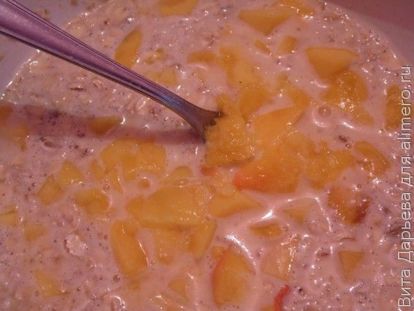 5. And at the very end added flour. See not to overdo it. The amount of flour depends on the amount of oatmeal. If the oatmeal is poured, enter less flour.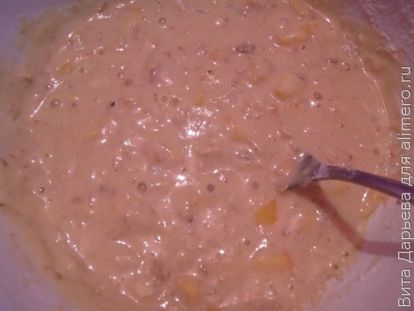 6. Fried fritters in vegetable oil from two sides.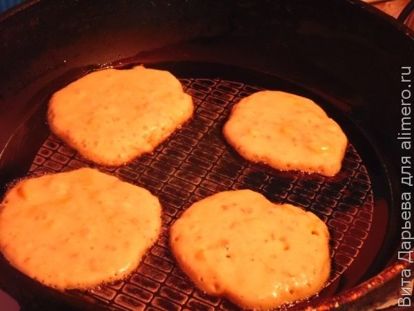 7. My relatives, while I conjured in the field, woke up from the aromas. I quickly put the tea and a plate of oatmeal.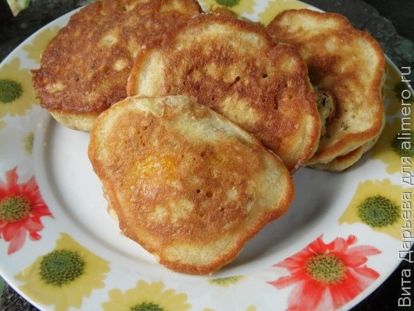 9. A little more sour cream – and you can sit at the table. Enjoy your meal!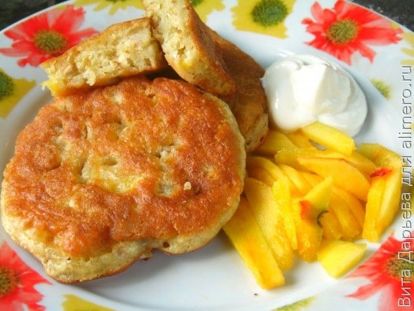 Well, as without peaches, I did not forget about them either, I cut everyone into a platter.