Pancakes are a simple dish, and a child can cook them. I often bake muffins as soon as the kefir or milk turns sour, this is the easiest way to dispose of the extra fermented milk product, followed by manna and muffins.
We have pancakes and pancakes with pripike in Russian cuisine, this is when all kinds of products are added to the dough when baking. Somehow I didn't even bother to make such pancakes, but when I saw the recipe for pancakes with pineapples, I was excited by the desire to try it.
The site was English-language, and the recipe is presented as belonging to vegan cuisine. As you know, animal products are not used in vegan cooking.
The recipe was really vegan: the dough was prepared without eggs on almond milk, sugar was also not added, but it was written that for the usual recipe, if there is no commitment to vegan cuisine, you can take the usual cow's milk, so I did.
Either my hands did not grow from there on this recipe, or the photographs to the recipe were made in another case, but I could not do anything without an egg. What are there curvy pancakes! The dough flowed, stuck to the shoulder when turning and separated from the pineapples by a lump.
In general, I got angry and after the first batch I immediately corrected the composition of the dough, after which I baked the original in appearance and extremely tasty pancakes. I suggest you have already changed my recipe.
By the way, not everyone likes the taste of bananas, subjected to heat treatment, so if you are one of them, feel free to make the usual dough without bananas, but otherwise you can follow the recipe.
Ingredients: 2 tbsp. milk, 2-2.5 st. flour, 1 egg, 3 bananas, 1 can of pineapples washers, 1/4 tsp. salt, 1 tbsp. sugar, 1 tsp soda, sunflower oil for frying.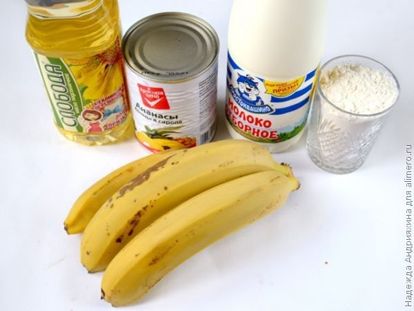 Peeled bananas are cut into pieces so that it is more convenient to grind.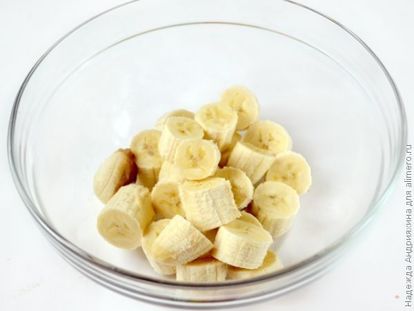 You can simply crush bananas with a fork or turn them into a blender puree, add some milk first, then pour in all the remaining milk, drive in an egg, add salt, soda and sugar. All whisk together. The mixture will be with light density due to a banana.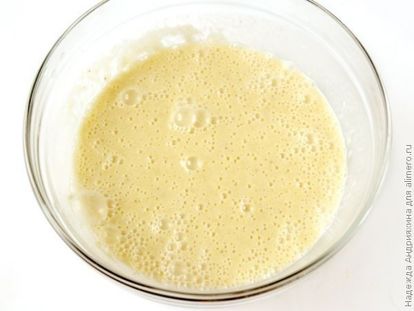 Add flour, stir.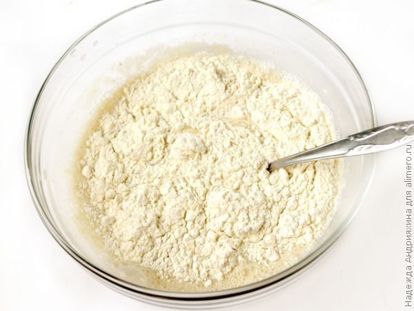 We take out the bananas from the liquid, lightly dry them with a paper towel and put them in the pan with hot oil. We put the number of pineapple rings, taking into account that there is enough space for the dough, which should form a ring around the pineapples. Fry the pineapples until golden brown on the bottom.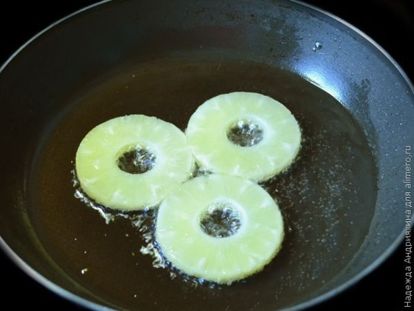 Turn over the pineapples and pour the dough into each ring so that it is not only on top, but also surrounds the pineapple rings.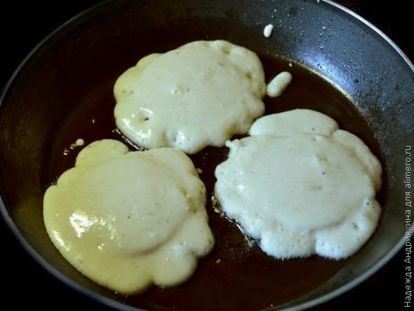 Turn over, redden the other side.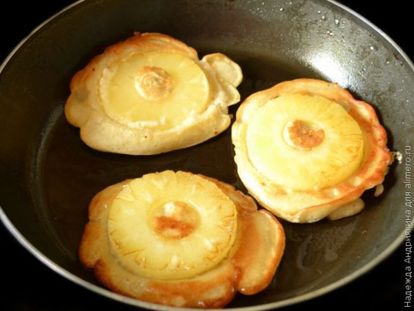 These pancakes are tastier with berry syrup, honey or condensed milk, as pineapple gives sourness and juiciness.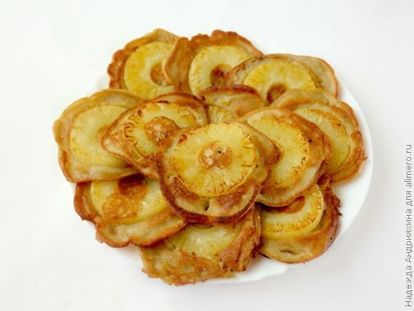 In the original, they were watered with maple syrup, but I have never tasted it before, we don't have this popular foreign wonder syrup, I have red currant confiture that is spread on syrup.