Pies are loved by both adults and children. Pies are with different fillings and different shapes.
Today I want to tell you how to make pies in the oven on yeast dough with potato and mushroom filling.
Time for preparing: 1 hour for kneading dough, 50 minutes for preparing the filling, 30-40 minutes for baking in the oven.
Ingredients for 14 pcs .:
First I will tell you how to make a pie filling. Everyone knows that mushrooms are hard food. And, to bring them to readiness, it is necessary to subject to heat treatment for 40 minutes. The only exceptions are champignons, they can even be eaten raw.
I used forest mushrooms for cooking, which I collected myself. I usually clean and freeze them. And then as needed I use.
So, the mushrooms must be cleaned (if you have not cleaned them yet), wash and cut into cubes.
Then dice the onion.
And send the onions with mushrooms stew for 40 minutes on a pan greased with sunflower oil, adding a little water.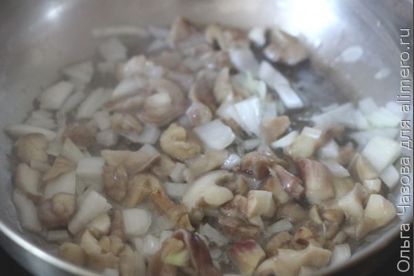 Now we need to cook mashed potatoes. First, wash and clean the potatoes. Then cut it into 4-6 pieces each. And send in a saucepan with boiling water. And wait until it boils and becomes soft. Do not forget to salt.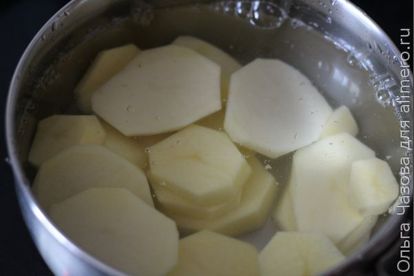 When the potatoes are cooked, turn it into a puree. This can be done with a tolkushka or ordinary fork.
When the mushrooms are stewed, combine the mashed potatoes with mushrooms. This will be our filling for pies.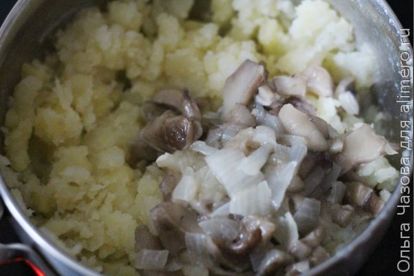 Now I will briefly tell you how to make yeast pie dough. Take 500 grams of flour. Add half a pack of instant yeast, 2 teaspoons of sugar, a tablespoon of salt. All mix well. Smash 1 chicken egg. Add a glass of water and 15-20 ml of sunflower oil. Knead the dough. Give the dough to rise. It takes about 30-40 minutes.
After the dough has risen, proceed to the modeling of pies.
We make a long sausage from dough, which we cut into equal pieces, about 2 cm thick. These pieces roll out in circles.
In the center of the circle lay out a teaspoon of our potato and mushroom filling and pinch.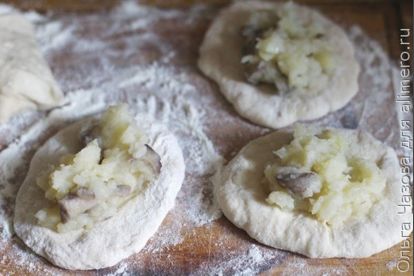 We put the resulting pies on a baking sheet greased with sunflower oil. And put in the oven heated to 200 degrees.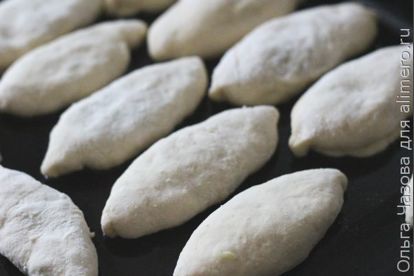 After about half an hour, the patties will turn red. Take out the pies from the oven. We spread in a deep cup and cover with parchment paper, and on top of a towel. This is done to ensure that the patties are soft.
After 10-15 minutes, you can eat patties. Enjoy your meal!