Sometimes I make an omelet for breakfast.
Today I cooked a wonderful omelet with a bunch of extras. In the course went and tomatoes, and olives, and mushrooms, and, of course, greens.
In general, in our family, on the part of the omelet, the chief is the husband. He always makes an omelet chic. But the husband does not like to add to this dish something else besides dill. That is, everything is so strictly and purely peasant — eggs, salt, pepper and milk. And that's all. It's boring, as for me.
I love to have a lot of stuff in the omelet. Desirable vegetable. And more, more. Therefore, I try to add any vegetables that I have in stock (within reason, of course). And greens, of course, as without it;)
Therefore, what remains to be done if the husband prepares a strict omelet, and I want an omeletno-vegetable disgrace? Just cook the omelet itself 🙂 Actually, this is what I did this morning. The result pleased me. Yes, and my husband too. Although, the funny thing is that my husband devoured an omelet at the moment, but, nevertheless, while having breakfast, he managed to immediately give me a couple of comments about its preparation 🙂
So, to make an omelet with mushrooms, olives and tomatoes you need such products: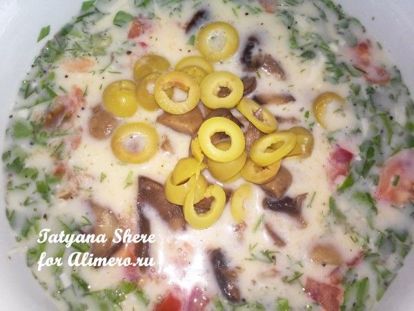 Mixed the whole mass as much as possible.

Fried in hot vegetable oil under the lid until fully cooked.
That's all, a gorgeous omelet with mushrooms, tomatoes and olives is ready!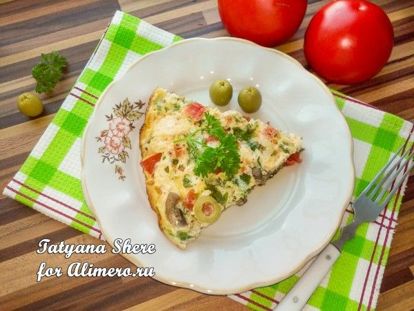 Enjoy your meal!