Up to this day, the weather in our area was warm enough for November with slight short rains. And it is precisely at this time that the so-called silent hunting is always most successful – especially if you know mushroom spots.
Who-who, and my husband is an expert in this! So we didn't waste time for several weekends in a row, but we armed ourselves with baskets, and others with buckets, and moved to the nearest forest: as they say, breathe air and search for mushrooms.
What is it still an exciting experience, I tell you. When you walk, slowly in the woods, and so neatly-neatly step on the fallen needles, in order not to accidentally step on the next big-bellied handsome! And the children had so much joy when they themselves found mushrooms and filled their baskets.
But we have already closed the mushroom season this year, so we will be satisfied with its results now – we never returned home without a full basket or bucket. And about amazing autumn walks in the forest we will be reminded not only of joint family photos, but also a variety of mushroom blanks.
Today I will tell you about the most probably simple and quick method of pickling forest mushrooms – in this case I had Polish ones.
For today's recipe, I used:
The complexity of the recipe: very simple
Time for preparing: 10-15 minutes, and then a night of waiting
The course of the proposed actions:
First, I will explain what I mean by prepared mushrooms.
When we bring them from the forest, they are full of all sorts of things. So, first of all, they need to be thoroughly cleaned of stuck leaves, needles, dirt, insects, etc.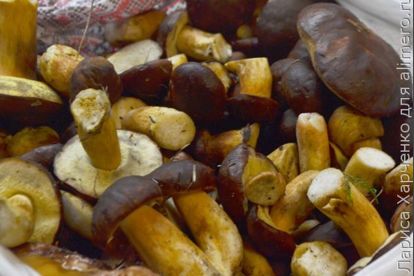 Then thoroughly wash each mushroom under running water. And after that, pour the crop with cold water and boil twice – the first time just bring to a boil and wash them thoroughly, and the second time give to boil for 20-30 minutes. Lean back in a colander and cool.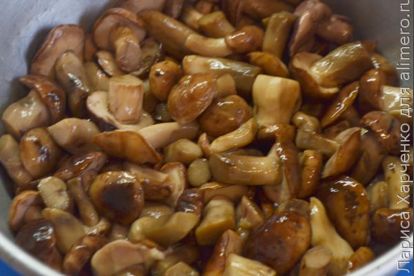 Now our mushrooms are ready for further manipulations.
First, peel and chop the onions with feathers.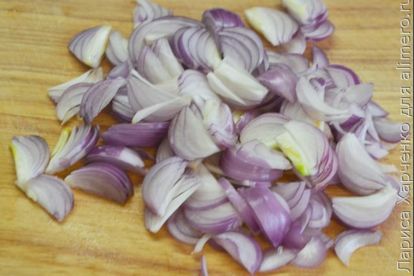 Now prepare the marinade – combine all the necessary ingredients.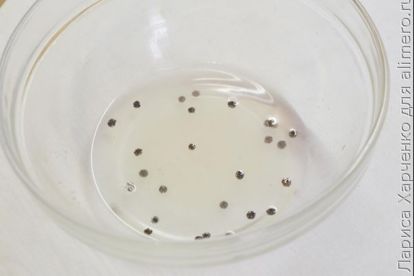 Put the onion into a saucepan with marinade and mix.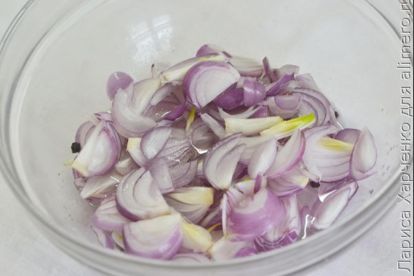 Now add the mushrooms and set on fire.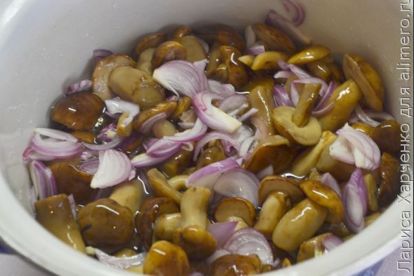 Stirring regularly, bring the entire contents of the pan to a boil, reduce the heat and boil for literally 3-4 minutes. Everything.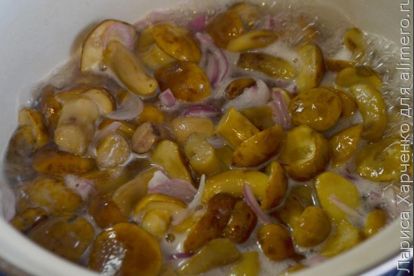 A saucepan with mushrooms in a marinade needs to be put in the cold (I just took out for the night on the balcony). In fact, it is desirable to mix them from time to time, but you know that at night I did not have such an opportunity, so the mushrooms were marinated on their own – without any outside intervention.
Of course, I have not forgotten to take a sample from them since morning – this is just delicious. Elastic, crispy – well, very tasty!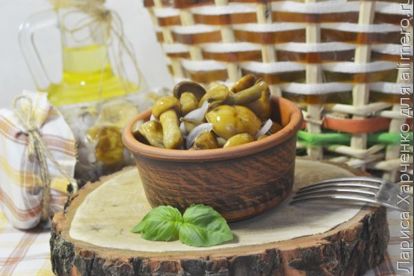 I note that it is impossible to keep such mushrooms for a long time, but I am sure that this will not work, since they are eaten incredibly fast!
Cook with pleasure!