Solyanka with sausage and mushrooms turns out very thick, nourishing and rich! And since I love this tasty dish very much, then I practice cooking regardless of the season. And I share with you all the recipe with a detailed description and step-by-step photos by tradition and with great pleasure.
For the preparation of this hearty, aromatic and incredibly appetizing dish we should take care of the preparation of such products:
The complexity of the recipe: if you look, then there is nothing difficult in the preparation of this dish
How long will it take: about 20 minutes – from the power of half an hour
The steps proposed during the preparation of a tasty solyanka with sausage and mushrooms actions:
Put a saucepan on the stove with ready-made meat or chicken (in extreme cases – with fragrant and healthy vegetables) broth – let it boil.
In the meantime, we will deal with sausages. I took 2 types, those who, although infrequently, but from time to time I trust and buy, carefully reading the composition. Salami and Moscow sausage, we cut into strips.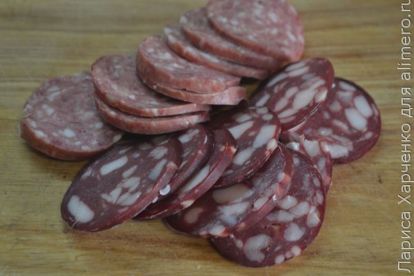 In order not to waste time, I immediately send them to the frying pan with vegetable oil – the sausage must be fried.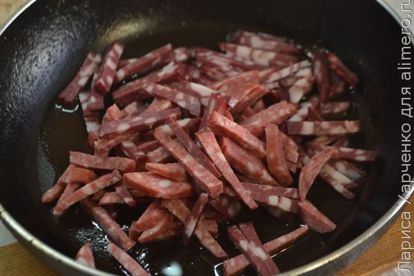 In the meantime, I am engaged in mushrooms – I, as you can see, have royal champignons.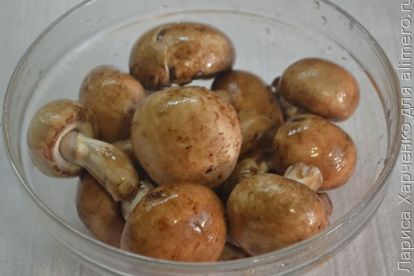 I washed them and cut them into small cubes.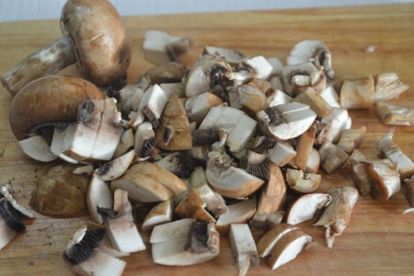 And then sent to the pan with sausage.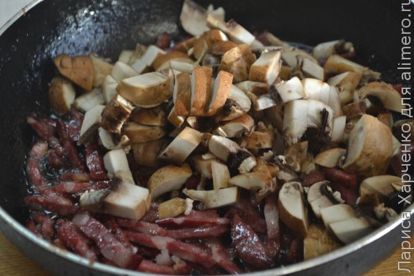 Do not forget about the onions – we clean it, chop it into small cubes and also spread it to sausage products and royal champignons.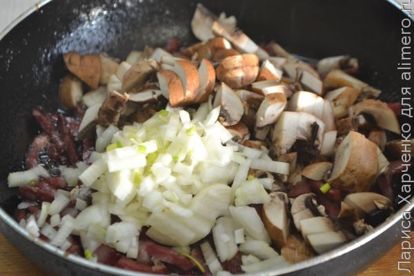 When the entire contents of the pan are already reddened, it's time to add the tomato sauce. Since at the beginning of cooking I hadn't foreseen this moment, because of his absence I was forced to replace the sauce with a delicious and aromatic adjika with a lot of tomatoes. The finished dish showed that the replacement was very decent, so I did not lose.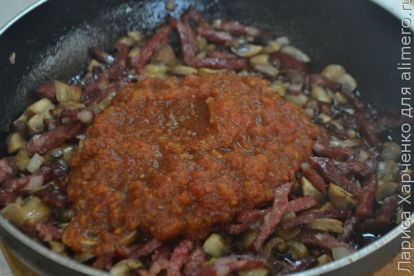 Stir and stew all together, and then shift to the pan with the broth.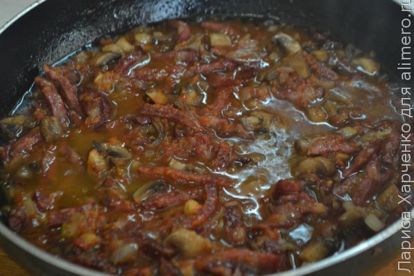 We try on the salt (the broth is already a little salted in us), let us spice and bay leaf.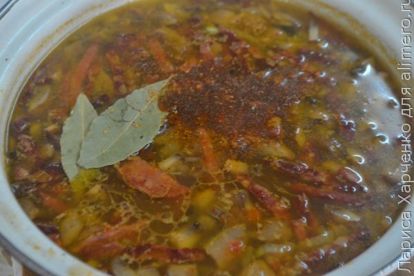 Minutes to 3 to turn off the fire add a few slices of lemon and a handful of olives without pits.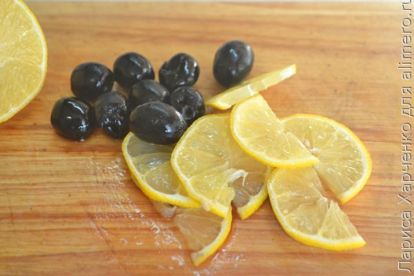 After boiling, we turn off the hodgepodge and by all means let it brew a little.
When serving, do not forget to decorate with a sprig of greenery.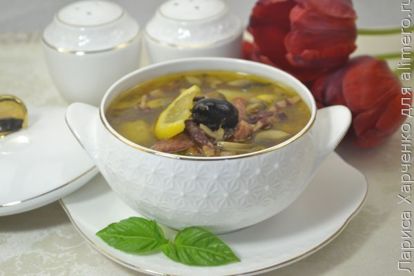 Cook with pleasure!