Beef – specific meat. Unlike the universal chicken, this product must be taken seriously: it cooks longer, and different parts of the carcass are suitable for different dishes. In a word, in my family they rarely cook from beef, but even when cooked, then with a big scale and the result is always – you will lick your fingers! The dish that I offer you today is cooked about 2.5-3 hours, so it's better to start its implementation on a day off.


Ingredients:


600 grams of beef
2 sweet peppers
1 medium sized carrot
2 small bulbs or one large
2 cloves of garlic
1/2 hot pepper
300 g tomatoes in their own juice
1 bay leaf
salt to taste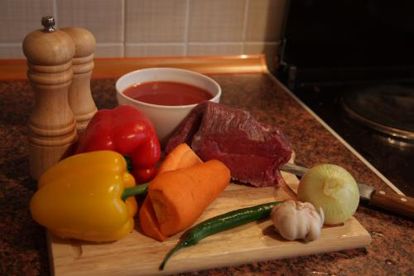 Beef should be cut into several pieces across the fibers and boil. Pour about 1 liter of water into a beef pot and lower the chopped carrots and one onion or half of a large onion, as well as bay leaf and a teaspoon of salt. Over high heat, bring everything to a boil, then reduce it and leave to cook under a lid for 1.5 hours.
When the meat is cooked and become soft, turn off the stove and leave it in the broth for another 30 minutes. After that, remove the meat and cooling, hands, tear it into fibers.
Then proceed to cooking vegetables. Cut the second onion (or its second half) into half rings and chop the pepper into thin strips. Roast them for about 10 minutes in vegetable oil.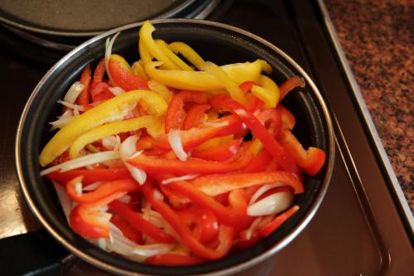 When the vegetable mixture is soft, add the chopped or grated garlic and hot peppers, as well as salt to taste. Roast them, stirring continuously, for about a minute.
After that, add mashed tomatoes with juice and simmer another 5 minutes.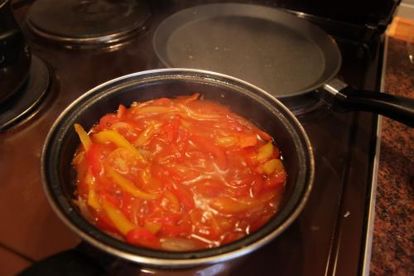 After that, add about 350 ml of broth, where the beef was cooked, as well as the meat itself, divided into patches.
Simmer the meat-vegetable mixture, stirring occasionally, for about 10 minutes.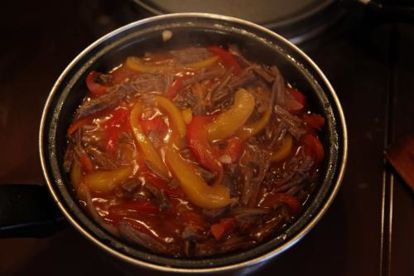 Before serving, decorate with herbs or sheets of lettuce.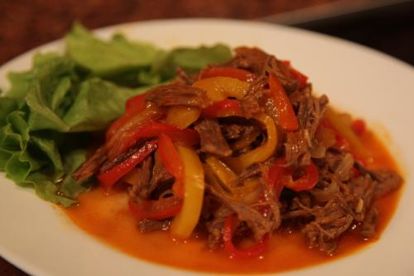 Enjoy your meal!