In my family, stew is one of the most popular dishes. I like the fact that the composition of the products for this dish is relatively budget and simple. These ingredients can almost always be found at hand. Its composition may vary depending on the contents of the refrigerator, but today it will be the most common vegetables that everyone has in the house.
Cooking time: up to 2 hours
Difficulty: low
For the preparation we need:
1) 8 medium potatoes
2) 1-2 carrots
3) 2 small bulbs
4) half a piece of cabbage
5) 300 grams of pork
6) salt, pepper, bay leaf, seasoning to taste
7) cooking oil for frying
8) 1 tablespoon of tomato paste
9) optional garlic clove (today I did without it)
For a start, chop the cabbage and pour it into the pan for frying: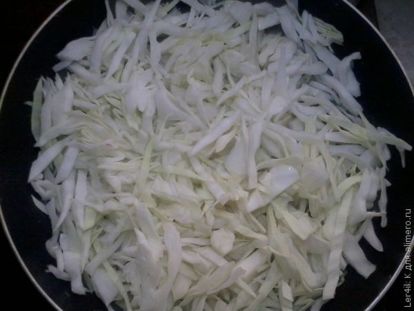 When the cabbage becomes transparent and begins to roast, add a spoonful of tomato paste.
… mix thoroughly and fry over low heat for another 5-7 minutes: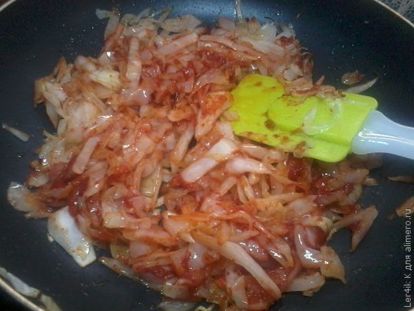 We pour cabbage into the cauldron (in my case – utyatnitsa). Getting down to the meat. Cut the pork into small pieces (you can immediately season) and fry for 5 minutes:
Meanwhile, chop the onion in half rings and add to the meat: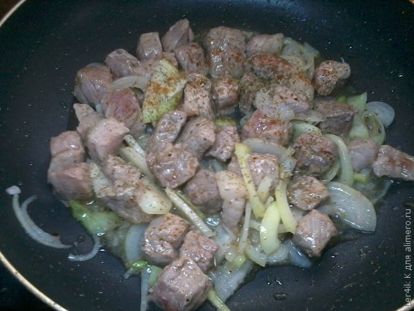 Dice the carrots and add them to the pan when the onions become transparent: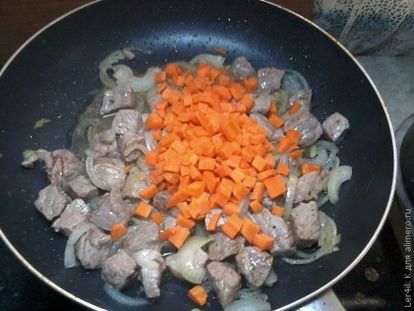 After 10 minutes, sprinkle with your favorite seasonings …
… and pour out in the pot.
Now we clean the potatoes and cut them into cubes or small cubes:
We pour the potatoes into the cauldron and pour it all with boiling water (to make it quicker), add salt, bell pepper, bay leaf and any seasoning to taste.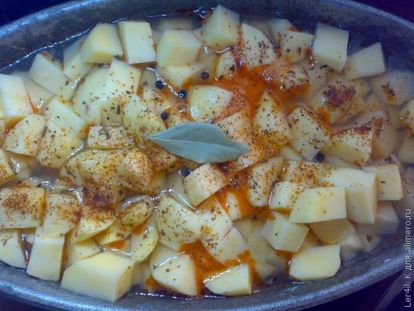 Stew our stew for about 50 minutes, stirring occasionally, but not very often, so that the vegetables are not too boiled soft. At the end I added Italian herbs seasoning, I really like it.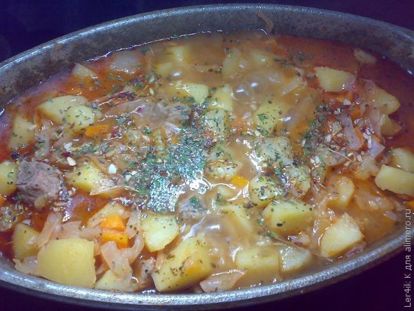 Before serving, we can decorate with greens. Enjoy your meal!