Pilaf is an oriental dish most popular in Uzbekistan. Only here there are a dozen types of pilaf cooking technologies, and each has a connection with historical and geographical data. Even the names of pilaf are associated with the places of origin of cooking technologies (Tashkent, Ferghana, Samarkand, Bukhara, etc.).
Today we will prepare a simple version of the Fergana plov. Mutton is not always used in the pilaf, you can use beef. Beef pilaf is no less tasty. For pilaf, it is not necessary to take the meat of a young animal (veal), nor does it require expensive pieces of tenderloin. For pilaf, beef shoulder or ribs are perfect.
To make a beef pilaf, you will need the following products: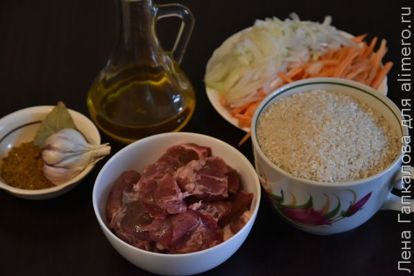 First prepare the products. Beef cut into medium pieces. Onions and carrots cut into strips.
In a cauldron, at maximum heat, heat up the vegetable oil. Put beef pieces in hot vegetable oil.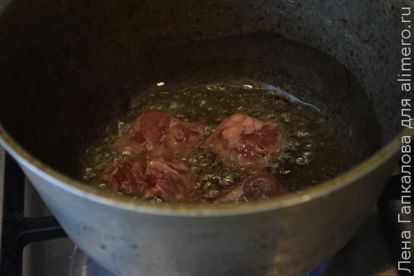 Meat should be roasted, not stewed, so the fire should be maximized. Fry the meat until reddened.