I love recipes that are simple but effective. It is to such recipes that I relate this one, which I myself invented once a long time ago and now I use it for holidays or romantic evenings with a loved one.
Just today the mood was romantic, and in the fridge lay a good piece of lean pork neck. Mustard sauce with a hint of garlic would go well with him.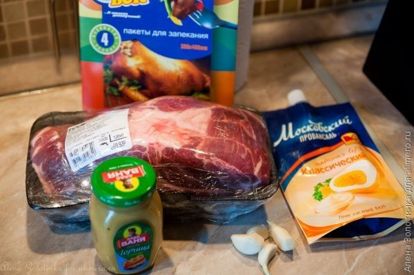 So, for the preparation of this dish will be required (for a family of 4 people):
pork neck – 1-1.2 kg
mayonnaise – 3 tbsp. l
mustard – 2 tbsp. l
garlic – 2-4 cloves
sleeve for baking
Wash the neck, dry with a paper towel and fold into a deep bowl. On the meat we make cuts with a knife inside.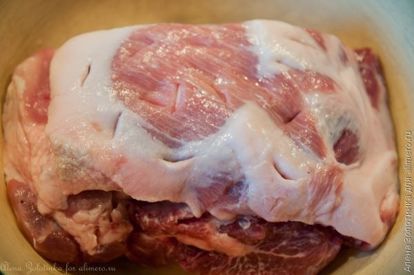 Mix in a separate bowl mayonnaise, mustard and chopped garlic. To taste, you can add salt, but in our family the dishes are eaten insufficiently salted, so I did not add, we have enough salt, which is available in mayonnaise.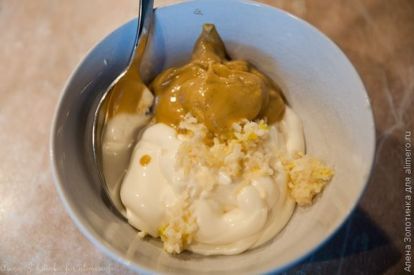 Spread the marinade on the piece of meat, trying to get the marinade in the cuts.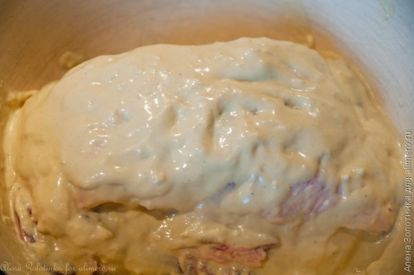 Leave the meat to marinate for a few hours (at least an hour or two hours, better at night – in this case, the meat should be put in the fridge).
We put the meat in the sleeve, tie up the sleeve, put it in a glass baking sheet and put it in the oven at 200 degrees for 60-70 minutes.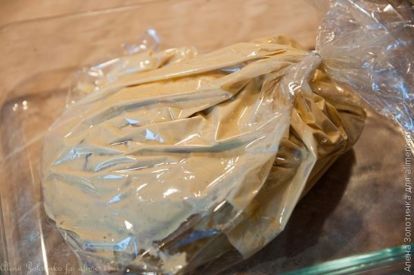 After the specified time, we take out the meat, cut the sleeve and remove it completely – quite a lot of juice will stand out from the meat when baking in the sleeve – this will be the sauce for pouring. Send the meat to the oven for another 15-20 minutes to bake the golden crust on top. A couple of times during this time, pour meat juice.
We take out the meat, cut into portions. The meat will turn out beautiful pink and very delicate in taste, and melts in your mouth.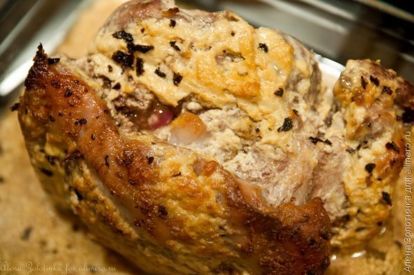 Garnish for such meat can be served any to your taste – pasta, fresh or steamed vegetables, cereals, baked potatoes or mashed potatoes. Garnish can be poured out with the juice instead of the sauce.
I served a garnish with a Greek salad of fresh vegetables with lemon juice and olive oil.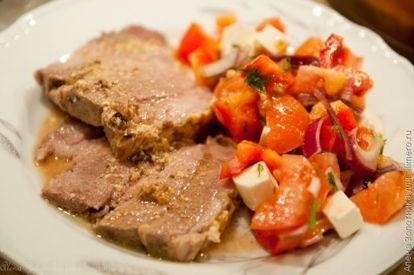 Enjoy your meal!
Approaching February 14 – Valentine's Day! Prepare such meat, please your loved ones with a wonderful and spectacular dish! Your loved ones will be delighted!