We all know perfectly well the state when you don't want to do anything in the evening. But, it is necessary to feed my husband, and here my express recipes come to the rescue. With the help of them, you can effortlessly cook an incredibly delicious dinner. I share with you one of these win-win options.
Ingredients are always in the fridge. Filling can be absolutely everything you like. Pizza with seafood is one of my favorites, but since I was cooking for my beloved husband, the dish came out as meat.
To prepare you will need:
– 150 g stew or boiled meat
– 150 g smoked ham
– 100 g of hard cheese
– 2 pickled cucumbers
– 100 g frozen or fresh tomatoes
– 70 g of a mixture of their peas and corn
– 1 tablespoon ketchup
– 1 tbsp mayonnaise
– 1 tsp mustard
Approximate cooking time: 30 minutes.
To prepare the dough, you only need to mix all the ingredients, and better – whisk with a whisk for pomp and softness.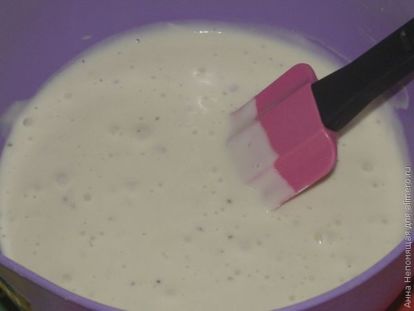 Heat the frying pan, reduce the heat to minimum, pour the dough into the frying pan and bake the cake base for the pizza.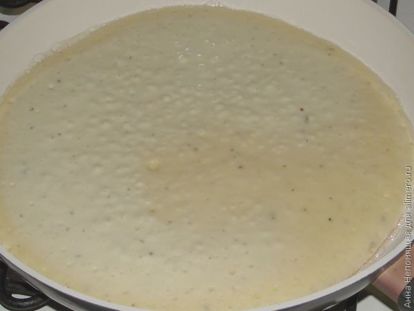 When baking the cake, do not spend time and cut the pizza filling.
Topped topped cake turn over to the other side.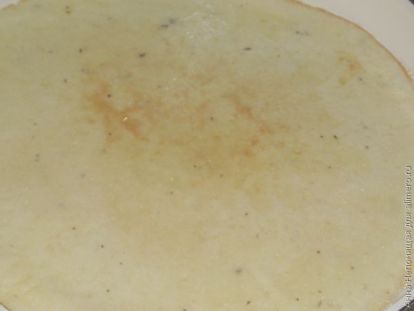 Temporarily turn off the fire or simply move the pan. Lubricate the cake with ketchup, mayonnaise and half a teaspoon of mustard.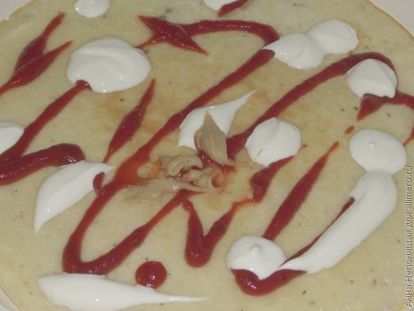 Next, lay out the meat, slightly thawed tomatoes, peas and corn.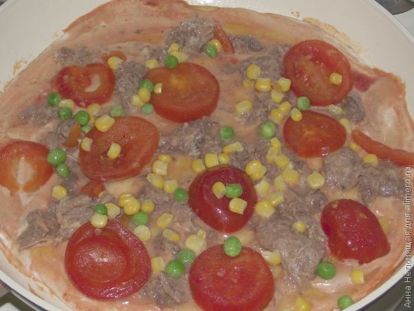 Next, sprinkle all a little cheese. Following smoked ham, pickled cucumbers.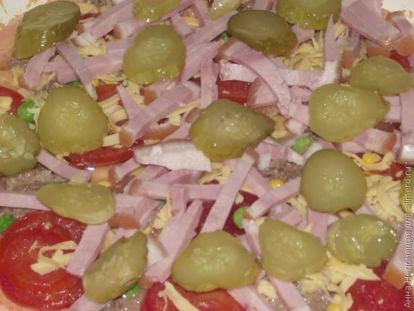 We fall asleep with all the remaining cheese, cover the pan with a lid, put it again on the minimum fire. After 15 minutes, a fragrant, fresh homemade pizza is ready.

A huge plus for me in this recipe is a great variety of various fillings that can be put here. The dough is very soft, tender, the consistency of even an omelet. I wish you successful culinary experiments and enjoy your meal!