Barley with meat is a wonderful breakfast or lunch, which is able to charge with energy for the whole day. But this is not the barley that fed us in kindergarten. I think that few people are able to call barley from kindergarten tasty. I used to think for a long time that pearl barley was never tasty. I was wrong.
I tried experimenting with pearl barley and will try it. I like to cook delicious things that do not seem tasty at first sight. I think this is a challenge. And also barley is perfectly combined with vegetables, and with fish, and with meat. Today's porridge with meat. Let's get started
For the preparation of delicious barley with meat such products are necessary:
Time for preparing: 1.5 hours since we use dry barley
Complexity: very easy
Cooking barley in a pan, so we take that pan, in which the walls are thick.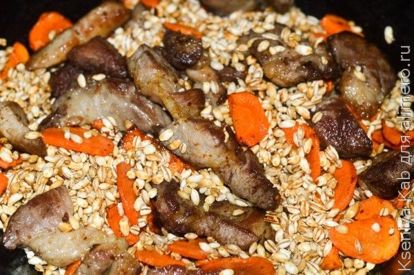 Under the cover of the barley with meat we cook until all the water evaporates. Barley during this time should be soft, like meat.
As you can see, there is nothing difficult in this recipe, but porridge turns out to be much tastier thanks to roasting in butter. This option is much tastier than when cooking meat with gravy and barley on water separately. The joint preparation of this dish resembles the preparation of pilaf.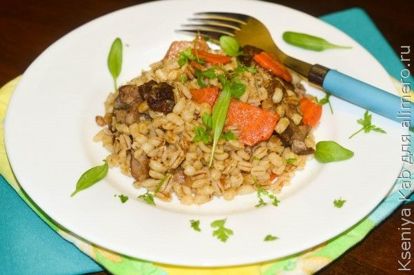 Finished barley with meat served in the form of heat. I think there will not be indifferent.
Cook on health!