This recipe can be changed, depending on what kind of meat you like more. I tried to do it with chicken, pork, beef, minced meat and giblets. It turns out in any of the cases is very tasty and satisfying.
I did this dish as hot on holidays and just as an option for dinner or a second one. You can serve it with or without a side dish. Baked vegetables and cheese with mayonnaise perfectly complement the meat taste.
I believe that this dish is a great option for those who like to eat tasty food, besides, cooking itself lasts no more than 20 minutes (the rest of the time the dish is baked in the oven).

In my own experience I will say that children also like this dish very much. Any meat after such languor under a fur coat of vegetables becomes very soft, juicy and fragrant. If you want to cook meat instead of mincemeat, remember the basic rules: you must cut it necessarily across fibers, rather thin, in small pieces.
Degree of difficulty: minimal.
Time for preparing: 1 hour 30 minutes.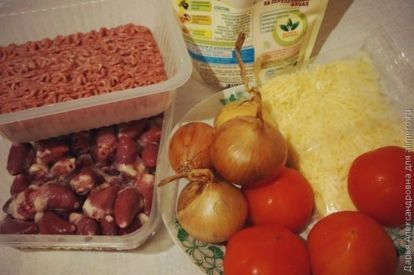 We spread mince and chicken hearts on a baking sheet. I laid out the mince first, and then the hearts on it. Salt the meat and add spices to taste.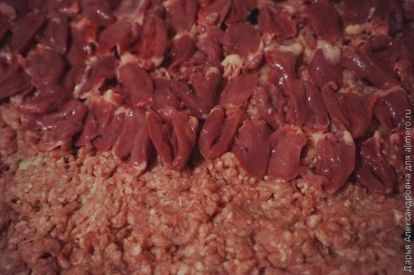 Lay the onion slices on top of the minced meat with hearts.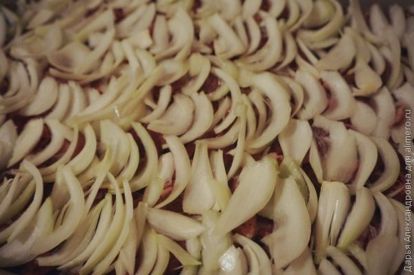 Put sliced ​​tomatoes on top of the onion.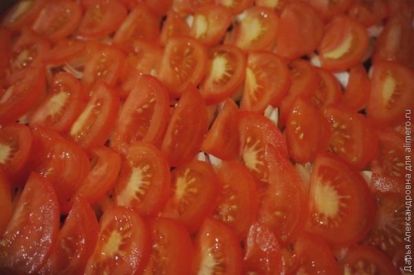 Spread grated cheese on tomatoes.
Add mayonnaise on top of cheese.
Mayonnaise is distributed over the entire surface of our dish.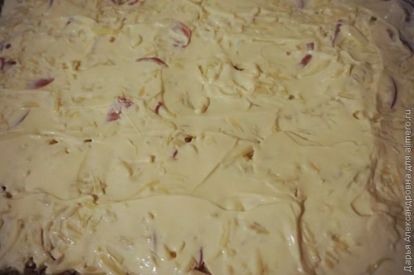 Add a little water so that it kind of covers the casserole.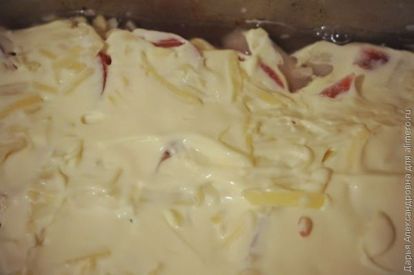 We bake the dish in the oven for 35 minutes on high heat, then reduce the heat and simmer for 45-60 minutes. on a small fire.