On these bright holidays, a lot of attention is paid not only to coloring eggs, baking Easter cakes and cooking other Easter baking, but also to various notable treats, since the Easter table should be generous and rich!
Like most modern hostesses, I made up my Easter menu for the feast of Christ's Resurrection, which is not very big, but quite interesting. The fourth item after the colorful dyes, amazing French cake and a wonderful Easter cake, I had a roll of pork with dried tomatoes.
As I planned, its preparation did not take me much time – everything worked out quite quickly and easily. The main thing is prudently prepare everything you need. About this in more detail.
– a mixture of spicy French herbs
– 1 tbsp. olive oil
The complexity of the recipe: minimal
Time for preparing: about one and a half hours
So, pork pulp. When choosing meat for any roll, you should pay attention to the possibility of further cutting it, since the layer for the roll should be at least 1 cm thick.
So I cut my piece in such a way that it could be opened like a book and beat it with a kitchen hammer in the most careful way. Add a mixture of salt and pepper on both sides of the formation.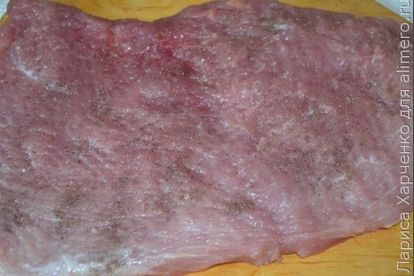 Next, prepare the filling. To do this, mix a little stuffing with chopped garlic, salt, ground pepper, water and breadcrumbs.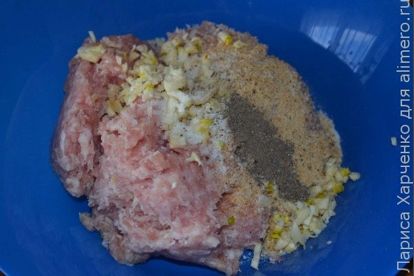 With this mass we evenly cover our meat layer.

Sun-dried tomatoes, if they are large, cut in half and spread in rows on the meat filling.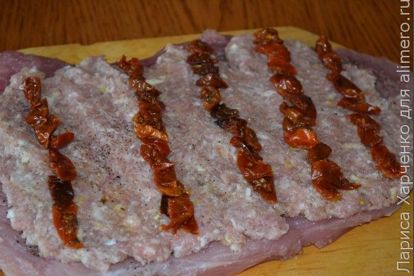 Now everything is rolled tightly roll and spread on a sheet of foil.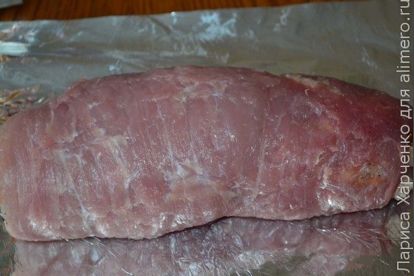 It remains only to sprinkle with French herbs on top and wrap with foil, but not completely – we leave the top open.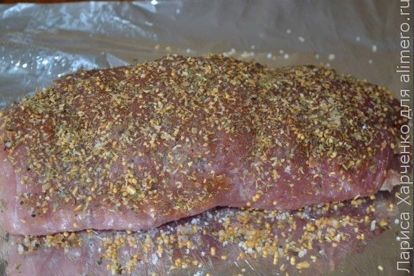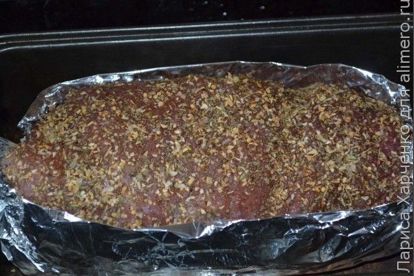 Heat the oven to two hundred degrees, lay out the roll in foil on a baking sheet or a small form and pour some water into it.
We bake the roll for an hour, but 20 minutes before it is ready, pour its spicy crust with olive oil.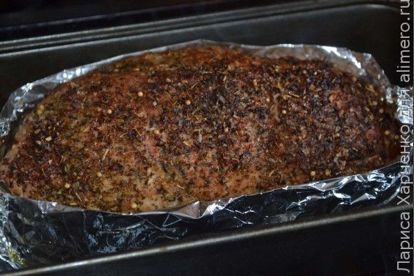 Cool the finished roll, remove from the foil and cut into portions.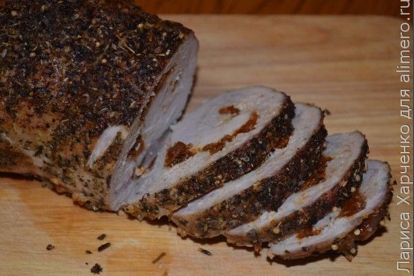 Enjoy your meal!