For some reason, it happened that people's attitude towards by-products is very skeptical. By-products belong to the minor products of meat production. But the nutritional value of the liver, for example, is not inferior to meat, and it contains less fat. An important factor in our time is the low cost of by-products.
By the way, the liver has long been considered not only a nutritional product, but also a healing one. Since the liver contains easily digestible substances containing iron and copper, which are involved in the synthesis of hemoglobin, therefore, it is recommended to have it in case of anemia.
Most children do not like the taste of the liver, and my children were no exception. Of course, everyone has different taste preferences, someone does not like cereal, someone has onions, someone does not like liver taste, but you can try to change the attitude to taste.
I immediately realized that the stewed, fried pieces of the liver, my household, and did not make proper success. And the experiments began. Now liver dishes are regularly included in our diet. Great success in our family are pates and pancakes from the liver. Most often, I cook chicken liver or turkey. To taste, they are much softer than pork and bovine liver and less fatty.
The main rule in the preparation of dishes from the liver is a short heat treatment time. The longer the liver prepares, the more moisture is lost, the denser it becomes, and the taste and texture of the dish changes.
Today, we will make liver pancakes, but pancakes are not easy, and we will sandwich them with vegetable filling and we will have such bright liver mini cakes.
To prepare liver pancakes prepare the products for the list:
The liver must be examined for the presence of gallbladders. The manufacturer may miss this point, but in the end we can get a spoiled dish. Remove vessels, excess fat and visible films.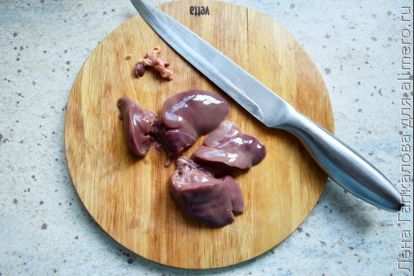 Randomly chop one onion.