I try not to buy sausage in the store, except for holidays or for certain dishes. But I found an excellent substitute – homemade liver sausage. I will share this recipe with you today.
The liver is a specific product, not everyone loves it and takes it for food. But for those who are supportive of the liver, I'll tell you how to make a juicy, fragrant and tender sausage from a small amount of by-product.
If you ask me where I took the guts, I'll say right away that I didn't clean or buy anything on the market. Guys for sausages I bought in the supermarket. Ready, peeled and salted. They are perfectly preserved in the freezer and have a long shelf life after opening the package.
Therefore, I did not use all 5 meters, as indicated on the package, but cut only the amount I needed.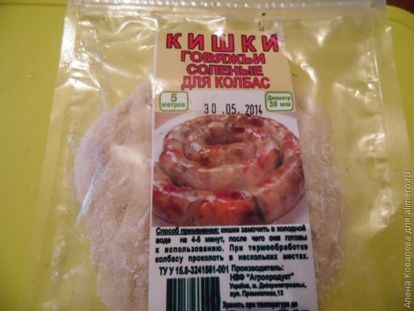 To make liver sausage, you will need the following products:
Time for preparing – 1 hour.
Complexity – average.
To begin with, I cut off the necessary amount of guts, filled it with cold water and left it for 15 minutes.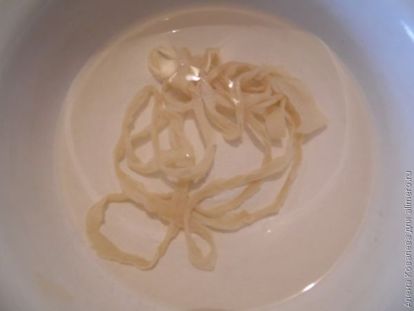 In the meantime, took up the stuffing. Liver washed, cut, dried.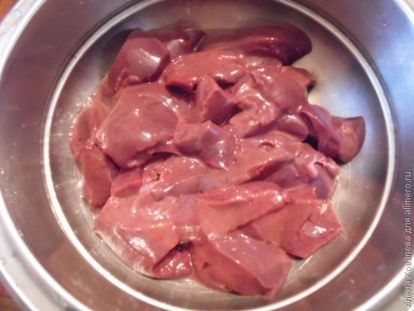 Milled it with a blender. If you do not have a blender, you can use a meat grinder, but then pass the liver through it several times so that it turns out without small grains.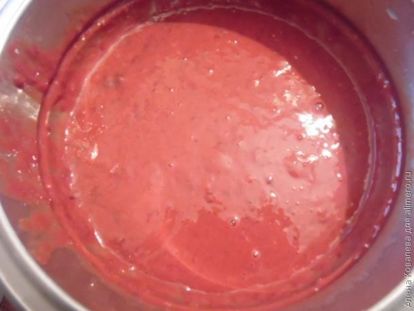 Cut the fat. Added it to the liver, hammered eggs.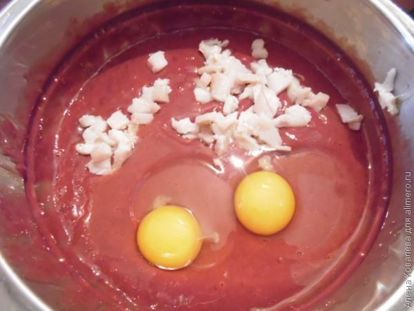 Added milk, semolina, salt, spices, garlic. Mix well.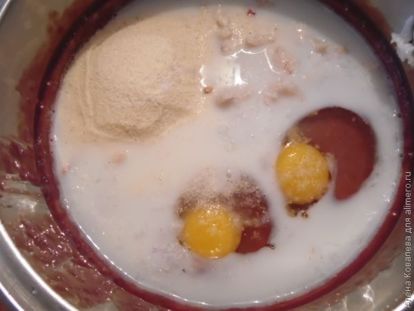 The consistency in my mass lacked semolina, so I also added a spoon and fried onions.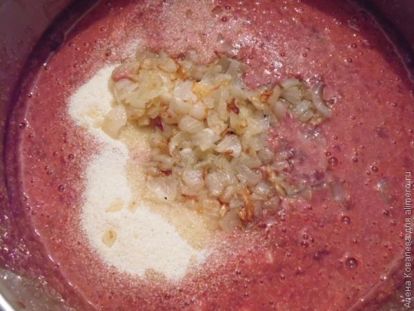 Once again, the blender whipped everything. The liver mass should be uniform, viscous, but not too liquid.
Go to the filling guts. Through a special nozzle, I filled my intestines with a liver mass. She tied it with thread. Laid out on a baking sheet, smeared on top with vegetable oil for golden brown.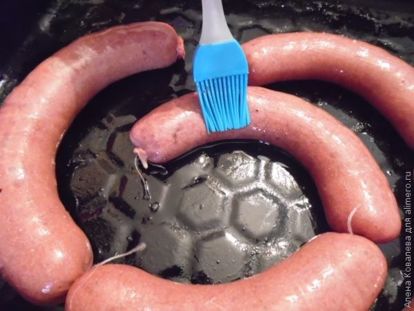 Sent in the oven for 35-45 minutes. Baked at 180 degrees.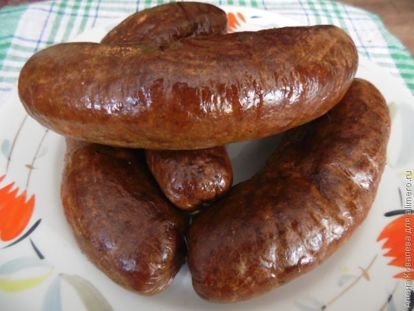 Sausage should be allowed to cool on the table. Chop it better cold. You can serve as a garnish to your taste, but I fed my family with sausage with mashed potatoes.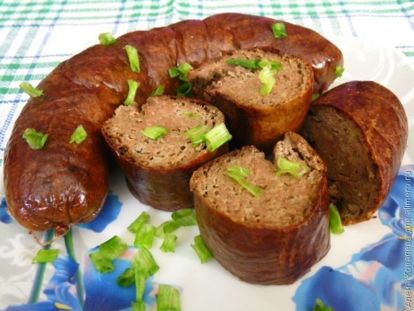 Enjoy your meal!