In the winter, I shared with you a recipe for rabbit pate. Yes, it is tasty. Yes, it is for gourmets. But no, everyone will not be able to cook, since the hare is not so easy to find. And I understand that. And for those who remained without pate in the winter, I decided to prepare another pate. This time of the most ordinary products that are available to everyone.
Tastes at these pate are very different, but each of them is delicious. How could it be otherwise? I cook for my home, and for them I try to do the best. So it turns out that I cook for them, and share recipes with you. I hope your homework, and you too, will appreciate this modest recipe.
To prepare a paste from the liver and lungs, such products are necessary:
Time for preparing: 20 minutes if the liver and lungs are already boiled and cooled
Complexity: easy
With a pate in general there is nothing difficult. Yes, there are some steps that need to be done, but by and large it is easy to prepare pate.
For example, today's recipe is liver and lungs pate. To start the liver and lungs need to boil without salt until cooked. At the end of cooking, add salt and leave to cool in water.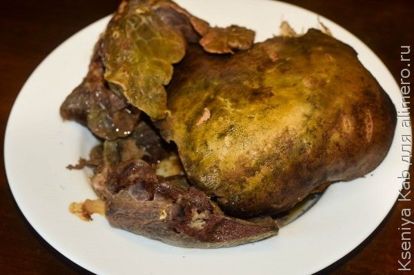 Prepared cooled boiled liver and light chopped with a meat grinder. You can take a small mesh, but this time I used a large mesh, because I wanted a texture.
Onions cleaned and cut into cubes. Fry until soft.


Mix ready minced meat with fried onions.