While I was cooking green borsch today, I saw that there were breads in the house. I did not want to go to the store for the sake of one loaf of bread or pita bread (I love recipes with it), and in the bread maker he cooks 3 hours. A stalemate, it would seem, but not … For such cases, I always have at hand a recipe for making very quick cakes on the water.
Usually, all the cakes that I know are prepared on kefir or other fermented milk product. But on the water, this kind of bakery products is not worse. And all because of the fact that kefir in the house, when the bread ends at the most crucial moment, is not always the case. Water is easier – it is always there.
And today the recipe for very fast (and probably the fastest) flat cakes has rescued me. Only 15 minutes are needed for rosy suns to appear on the table, the very thing for breakfast. By the way, they are much more useful than yeast bread, as they are prepared on baking soda or baking powder. If a part of the flour is replaced by bran or wholemeal flour, the option will be even more useful.
I am also silent about the fact that cheese, green or fried onions, mushrooms, dried tomatoes, prunes or dried apricots can be added to the dough for the cakes. In this case, there are flat cakes with different tastes. If we place these additional ingredients inside the cakes, we get the filling, and with it cakes with a surprise.
For the preparation of very fast cakes on the water are needed such products:
Time for preparing: 30 minutes.
The difficulty of cooking: very easy.
I have scales on the farm, so I measured the amount of flour on them. If they were not, then I would have taken 3 cups of flour with the top.

Store the cooled pellets need in the package to prevent them from drying out.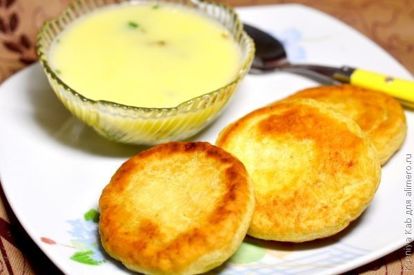 I think now you will have a magic wand on hand in case there are breads in the house.