The idea of ​​such cheesecakes with carrots was suggested to me by a friend. She said that she often cooks them to her little son, and that the dish turns out very tasty. And useful, which is important, especially for the children's menu.
Yes, and in appearance, these cheesecakes go very nice. Carrots add extra sweetness and originality to the most common recipe.
For the preparation of carrot cheesecakes will need the following Ingredients:
2-3 small carrots
400 g of cottage cheese (I have 9% fat)
2 tbsp. spoons of sugar
1 tsp vanilla sugar
a pinch of salt
2 eggs
breading flour
cooking oil for roasting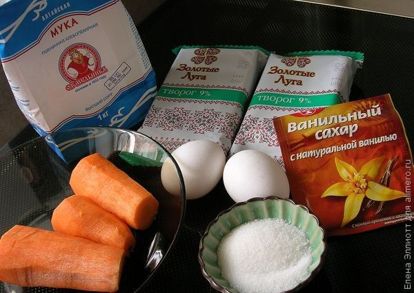 Complexity: low.
Time for preparing: about 40 minutes.
Grate carrots on a fine grater.


By the way, you can pre-carrot and boil, and then grate. But it was easier and faster for me to see the version with raw carrots. Especially in the process of frying, it is almost completely prepared, because we have very, very small her three.
Cottage cheese combine with sugar, salt and vanilla sugar, mix well.