I promised you another recipe for cooking in cans. So it's time to share it. Today I come to you with cheesecakes in cans. Of course, they can also be fried in a pan, but they are much tastier in the cans from the oven.
Since the son does not always like to eat healthy cheesecakes, I had to change the serving of the dish a little, and (lo and behold!) The child enjoyed breakfast. A child is a benefit, and a mother is a joy.
I think that not only my curiosity pushes me into kitchen experiments. I also love to surprise and indulge my home with various goodies. Let it not squid with shrimps every day, but even cheesecake from the jar with its whole appearance evokes appetite and gives a pleasant mood for the whole day.
To prepare cheesecakes in a jar (6 servings) you need the following products:
Also needed small jars with lids in which we will cook and store cheesecakes.
We pour the cottage cheese into a container for mixing the curd mass.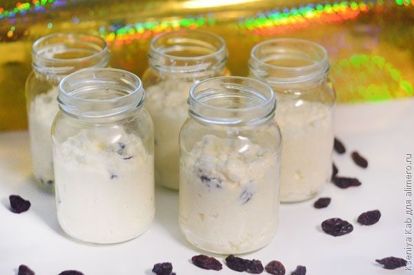 Cooking time depends on the capacity of the jar, but you can navigate for 30 minutes. Readiness is checked visually, as soon as the cheese cakes at the bottom and the top begin to flush.


Serve cheese cakes in jars, warm or chilled, with jam or sour cream. You can add condensed milk or jam in a pair of spoons to a hot jar before serving. The remaining jars are closed with lids, cooled and sent to the refrigerator, where cheesecakes can be stored for a week. We have 6 servings for 2 days.