I don't know who the star in this recipe is. Whether spicy tomato risotto, full of creamy taste and parmesan cheese, or juicy and tender veal, you cut it, and a clear broth flows out of it, and even a one-year-old child can chew it with four front teeth, like a mouse. Whether the recipe is good because it is done in 30 minutes with your left back foot? Is it lucky for me that there is little need for ingredients, no hassle? I do not know. I did all this for the first time, on a whim, but I wrote everything down in my notebook. This is just a magic wand.
Of course, such a recipe requires more cash investment than frittata. On the other hand, we will replace the veal tenderloin with chicken or even with the back of the pollock, and we will get an inexpensive, but no less tasty option, because the tomato risotto itself is inexpensive, ooooo very tasty and orange.
My child ate it for three days. Three days. Do you understand? It is a rarity. Lord, you heard my prayers. For three days the child ate food, grandmother ate food, everyone ate food, but I smoked bamboo and indulged in bliss. Even made a manicure. Orange color. In honor of the risotto.
Time for preparing: 30 minutes
For risotto:

– rice for risotto, arborio or whatever you have access – 400 g
– bacon – 4 plates, cut into strips
– vegetable oil – 4 tbsp.
– chicken broth – 800 ml
– butter – 10 g.
– Cherry tomatoes – 500 g (I had 350 g, so I added 150 g of tomato juice), cut in half
– Parmesan – 50 g, grate on a fine grater
– Mascarpone – 3 tbsp. (I replaced the country with fat and sweet sour cream, it's the same)
– sugar – 1 pinch
– salt, pepper – to taste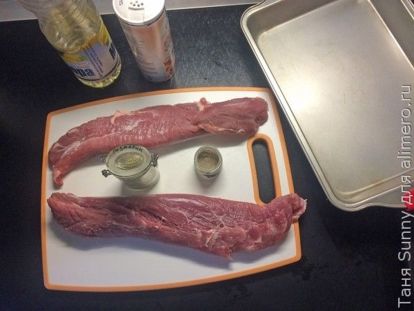 The list of ingredients is frightening, but it is visibility. We start with veal. For veal, do not need anything. Caramelized oil, salt, pepper and seasoning – rosemary. I did not pickle veal for a long and tedious, so I took a strong and bright rosemary. And still the veal turns out quite cautious, dim, so the tomato risotto suits her very well.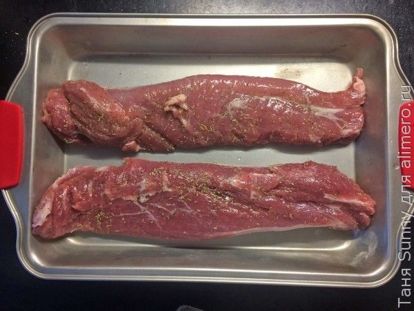 I warmed the oven to 230 degrees. She covered veal with butter and spices and put it on a baking sheet. Sent to the oven. There are two stages:
1) 230 degrees 10 minutes to form a crust outside, and all the juices remain inside
2) 200 degrees 20 minutes – bring to readiness.

Readiness will be given to a medium (medium done), it will be juicy, there will not be a crisp. This is not roast beef, this is a tender veal. There will be no salt inside, so salinity depends on how you salt the outside.
When the tenderloin is ready, take it out and allow the juices to walk for 20 minutes. This stage gives juiciness. If you cut it, the juices will flow out.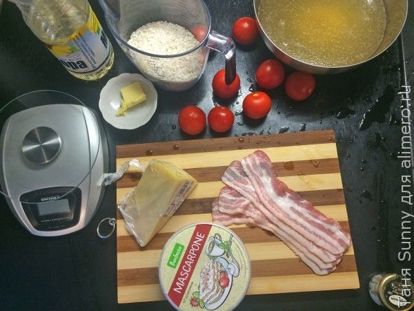 For risotto more ingredients.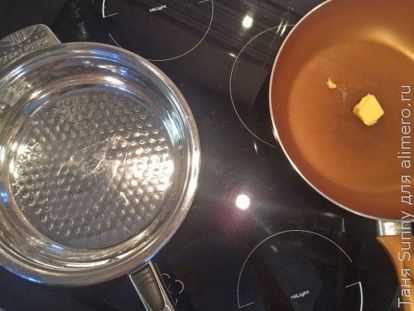 For risotto need two pans. On one I make rice (a little vegetable oil), on the other I fry tomatoes (butter). Both put on fire.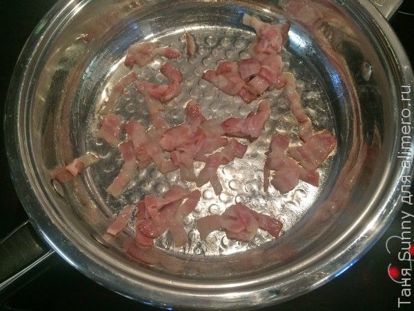 Where there is rice, I fry the chopped bacon, I do not even fry it – I melt it over medium heat.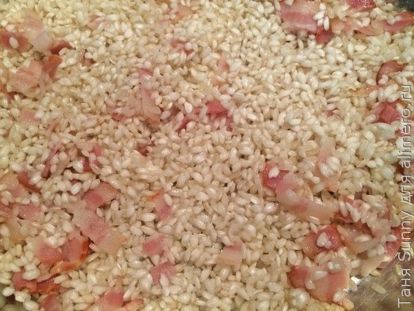 I throw rice and interfere, so that the risis are covered with oil. This will help them not to turn to porridge, but to preserve their individuality.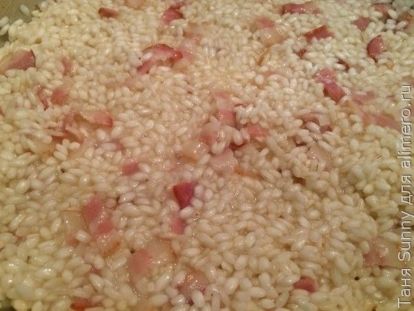 Then I start the risotto dance. I add in rice on a ladle HOT broth. Well, I will not describe the technique of risotto here. You all know her.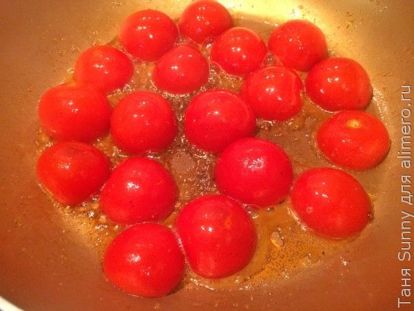 Cherry cut in half and throw in a large fire of butter to fry. This, of course, happens in a parallel universe. Roasting takes about 10 minutes.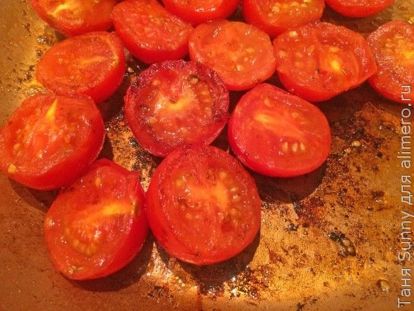 Cherry roasted and beckoning. When the cherries are roasted, put them in a blender and deglass the pan with broth or tomato juice.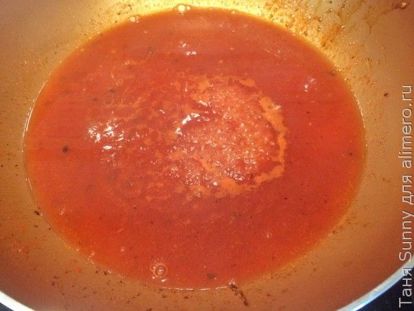 In my case it was tomato juice. Beat in a blender until smoothie, along with marvelous deglassirovannyh roasts.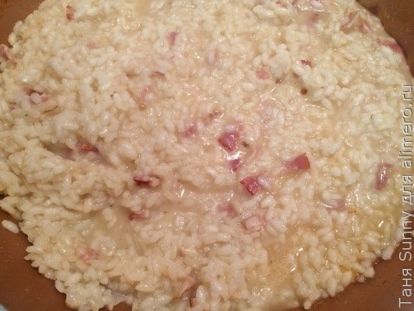 Risotto gradually puffs, ladle after ladle.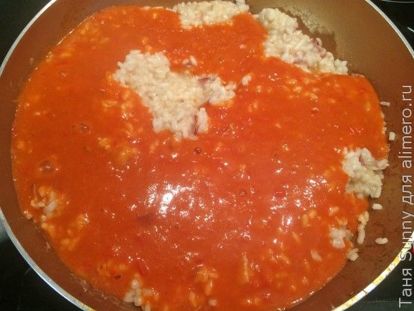 When the risotto is almost done, add my tomato creamy smoothie to it.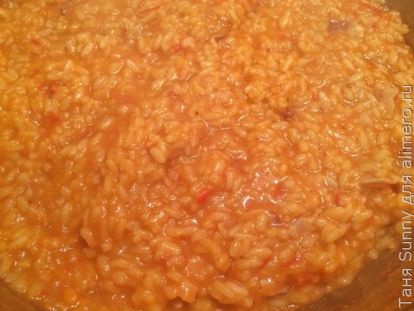 I stir it up.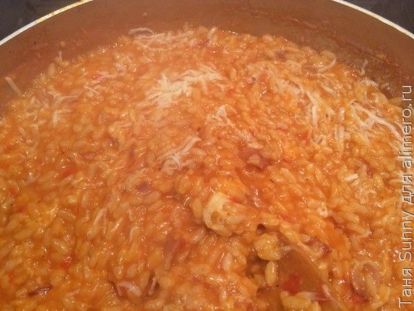 Add grated parmesan. I stir it up.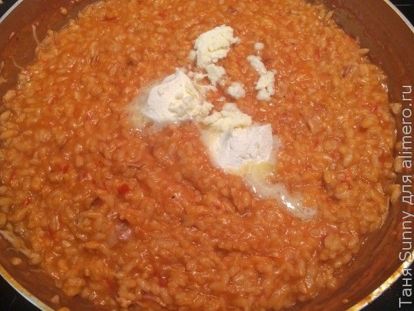 I add country sour cream, I name it Mascarpone – I stir it.
I taste, I balance salt, pepper, sugar.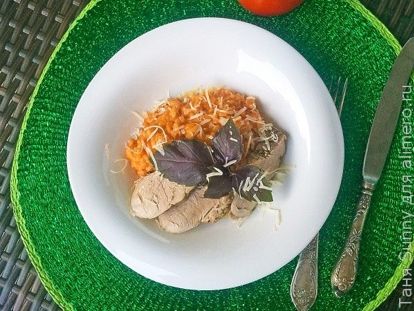 Well, here it is. Everything.