Porridge cooked in the oven, always has a special taste and aroma. And in combination with a useful pumpkin, it turns out not only tasty, but also useful!
Time for preparing: 1 hour 10 minutes.
To cook the millet porridge with pumpkin, we need:
1) 300 g of millet
2) 900 ml of homemade milk
3) salt
4) sugar
5) 200 g pumpkin
6) butter to taste
Wash the croup with cold water several times.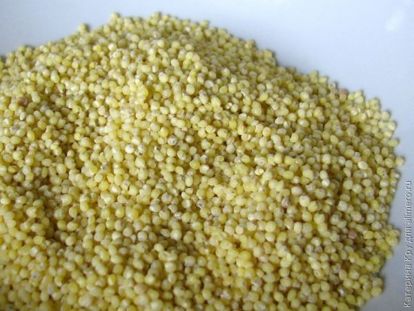 Then pour hot water and leave to stand for about twenty minutes.
Cut off a small piece of pumpkin, cut off the skin from it and rinse under running water.
Cut it into cubes or arbitrary pieces.
With millet, pour out excess liquid and put it in pots.
Put crushed pumpkin into the grits, add sugar and salt.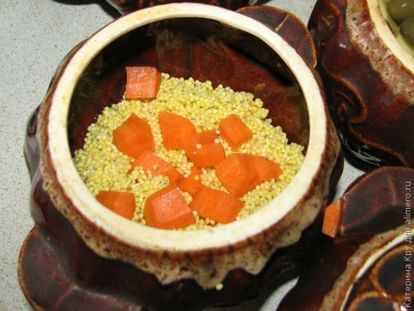 We fill pots with millet and pumpkin pulp with homemade milk. It is not worth pouring it up to the top edge, because when boiling it will pour out of the mold. You must leave at least one third of the space empty.
We cover the prepared pots with lids and put them in the oven. We leave to cook porridge with pumpkin on a small fire.
For those who adore pumpkin, another option for cooking millet porridge will do. For this dish you need to choose an orange fruit of small size, cut the top from the pumpkin and remove the seeds with a piece of pulp using a tablespoon.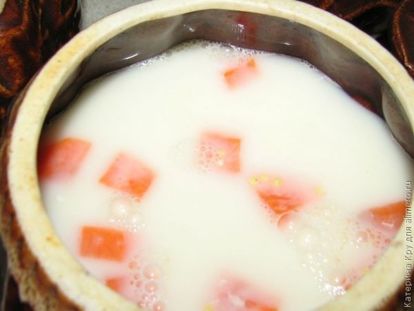 The resulting space is filled with cereal, sprinkled with salt and sugar, and pour over with milk. Close the top of the pumpkin lid, send the fruit into the oven.
In our family of pumpkin lovers there is no, so we would eat such a stuffed pumpkin for a week.
Returning to cooking porridge in pots, I want to say that sugar can not add at all (to taste).
After thirty minutes of languishing, get the pots out of the oven. In the finished porridge with pumpkin add a piece of butter and try!