Pumpkin is a very useful product. From it I cook my homemade porridge. I also often add it to pies and pies. I don't like to bake a pumpkin, as my guys do not like the taste of a pure product. Although, as is often the case, the matter of the recipe is that the recipe for baked pumpkin, which would win our hearts, was not yet found.
To saturate the body with a healthy one, today again I cooked porridge with pumpkin and raisins – a wonderful dessert for everyday cuisine. You can cook porridge in a slow cooker, and you can do it in the classical way – on an electric or gas stove.
For the preparation of millet porridge with pumpkin and raisins the following products are necessary:

Send the pan to the slow cooker and turn on the porridge / soup program. Time set 50 minutes. This time will be enough to boil millet and pumpkin.
If you do not have a multicooker, then the process of bookmarking is somewhat different:
– boil the pumpkin in water
– add milk, millet, salt, sugar, vanilla sugar
– add raisins at the end of cooking porridge
The finished porridge in the slow cooker turns out very tasty, since even the pieces of pumpkin retain their integrity. If you mix all the ingredients after cooking, you get a liquid porridge beautiful sunny color.
Serve porridge served warm or cold. When serving, porridge can be poured over chocolate or jam.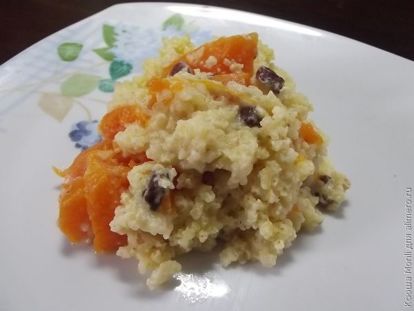 Enjoy your meal!