Millet porridge with dried apples is a dish of my childhood. I remember that I was 7-8 years old, and I had already cut dried apples so that my mother would cook our favorite sweet porridge. I really liked her, but my brother was not an ardent lover of her, but he ate the first plate of such an almost dessert.
When I recently visited with my parents, I was poured a large packet of dried apples on the track. My son does not like compote of dried fruits, so I decided to interest him with healthy tasty sweet porridge. Like me, the child was pleased with this dish. Now he asks to cook him such porridge every day.
I decided to anyone who does not know about millet porridge with dried apples, to tell this easy recipe. Now you can make a very healthy and tasty dessert porridge.
For the preparation of millet porridge with dried apples are needed:
Cooking time: 30-40 minutes
The difficulty of cooking: very easy
Dried apples circles are washed under running water to remove dust that could have formed during the drying of fruits or during storage.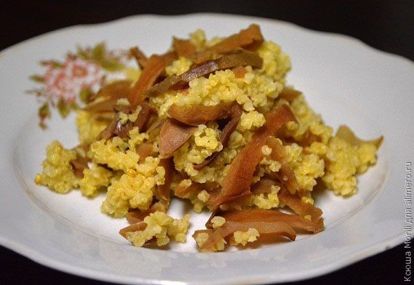 During serving, you can add a spoonful of honey and a piece of butter in the plate on top. Slimming girls, this item is better to skip.