Recently, I increasingly use unpolished rice for various dishes. I like it in taste, and nutritionists praise its nutritional value and unique properties in one voice.
Such rice, unlike ground, contains a lot of fiber (due to the preservation of the bran shell) and retains useful vitamins, minerals and antioxidants. Well, how can you resist!
In the last trip to the store, I, frankly, was going to buy brown or brown rice, to which our family had already got used to it. But on the shelf next to it was unpolished red rice with the spectacular name Rubin.
From the information on the packaging, I learned that this is a unique, exclusive variety. At the same time, the price was pleasantly surprised, being even lower than that of the usual brown rice. And I decided that you can try it.
The first time I was not sure that we would like it, and therefore made a simple rice porridge with butter, exactly as in the manufacturer's instructions. Porridge went off with a bang, and I began to think about where else to apply this unusual product.
And then I remembered the recipe for rice soup with mushrooms. Why not replace white rice with red? Taking the biggest pot, I began to create.
To make 6-8 servings of soup you will need the following.Ingredients:
2 liters of water
1 cup red rice
1 large onion
8 small potatoes
1 package (400 g) sliced ​​frozen champignons *
salt and pepper to taste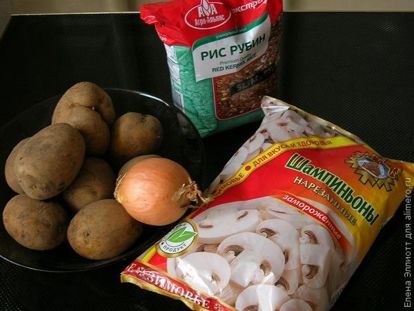 * It is even better to take fresh mushrooms, but this time I was not lucky, and they were not in the supermarket.
Complexity: minimal.
Time for preparing: about 1 hour.
The salted water brought to a boil and put the champignons back into it, without defrosting them beforehand.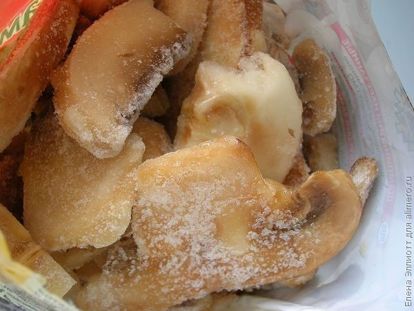 Red rice, according to the instructions, before cooking should be washed with water. But I didn't do that, as I usually wash only white polished rice. And I added red straight from the bag to the soup as soon as the water began to boil again.