I know a few recipes for soup, the main ingredient of which is green peas in frozen form. This recipe, with which I want to introduce you today, I like the most.
First, a huge plus is that the soup is cooked quickly and easily. 10 minutes will be spent on preparing the ingredients and a quarter of an hour – on its preparation.
The second advantage is that the soup contains very useful products. What is green peas, sweet peppers, carrots, onions and parsley!
The third plus is the heartiness and goodness of the soup! So let's cook it together?
Potatoes – 250 g
Carrots – 50 g
Bulgarian sweet pepper (red) – 50 g
Onions – 50 g
Parsley – to taste
Celery stalks dried – 5-7 pieces
Bay leaf – 2 pieces
Olive oil – 1 tbsp.
Water – 600 ml
First, all the ingredients will wash and lay out, so that it was clear – if we are all stocked.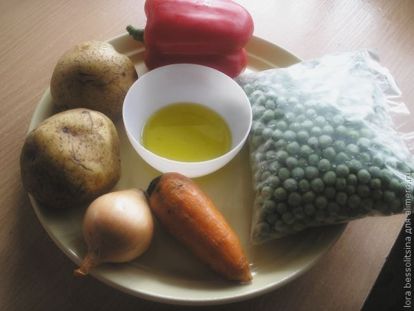 Then we clean the vegetables and measure everything.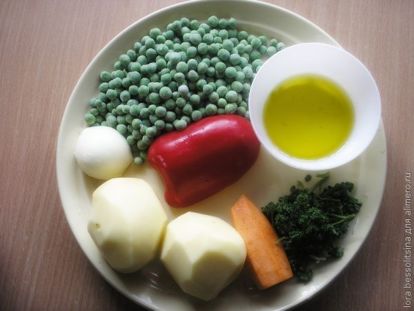 Now you can put water on the gas and do cutting vegetables. Immediately make a reservation – I cut everything the size of green peas.
First, cut potatoes into small cubes.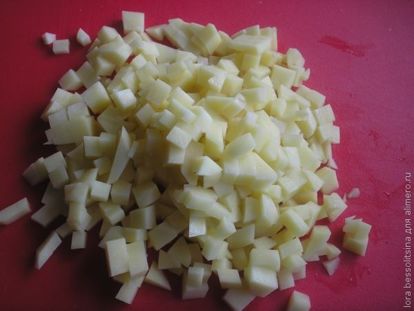 Then cut into cubes and carrots.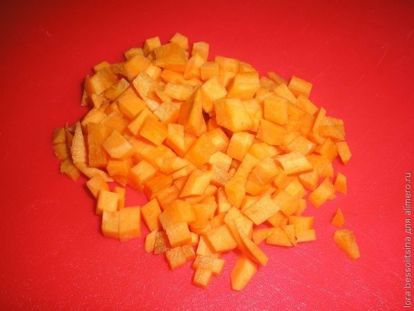 Melenko nastrogaem bow.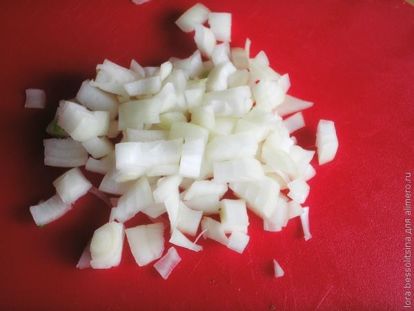 And now all this can be put in the already boiling water. Do not forget to add celery stalks right now. Let them bake for about two minutes, and they need to be taken out – they will give up their wondrous fragrance during this time.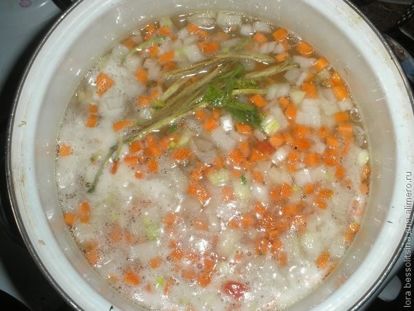 In the meantime, vegetables are cooked, chop the peppers into cubes.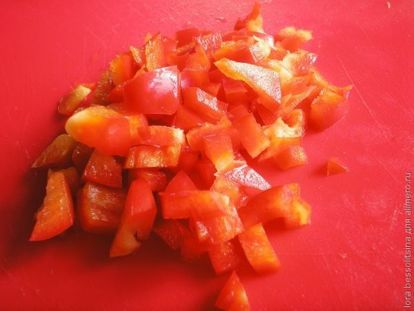 Measure out the exact amount of peas.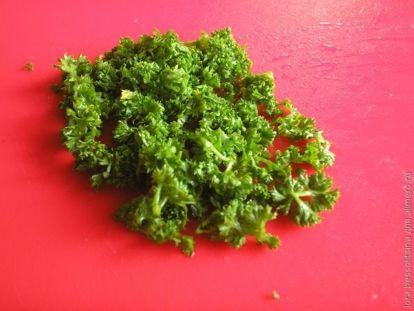 So, the soup is already boiled for 10 minutes. Now we put in it chopped pepper and peas. Let them cook for 5 minutes, no more.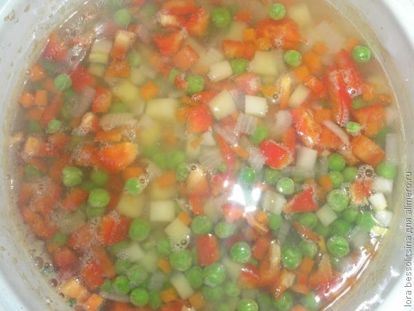 When we put parsley and bay leaves in it, the soup will not only look bright and appetizing, but will also be gathered from all the most useful vegetables.
In the finished soup, I put finely chopped parsley.