The first recipe, which I decided to tell you today, comes from my childhood – this delicious soup is often cooked by my mother, and my grandmother used to cook …
I am sure that many have heard about dumplings, but I'm willing to bet that in each region they are prepared and served absolutely differently.
In our family recipe, first knead the dough on kefir, then the dumplings themselves are formed and fried in the pan, and then the tasty and rich soup is prepared with them …
I remember that the dumplings and the grandmother and mother always made a double portion – one for the soup, and the second portion, my brother and sisters, we just dragged a little … It was so delicious.
In my family, I cooked the first dumplings for the first time, and the children provoked me to this with my question: Mom, why my grandmother makes dumplings, and you don't.
And really – why. Without hesitation, I decided to knead the dough, and the girls knew what to do with it! Where am I without my assistants.
For making soup with dumplings, we need:
For kneading dough:
For the soup you need to prepare:
– meat for broth (I had a piece of pork)
– 3-4 potatoes
– 1 onion
– 1 carrot
– 3 tbsp. vegetable oil
– a little green
– salt and spices
The difficulty of making such a soup: closer to average
Required cooking time: 40-45 minutes
First of all, we wash a piece of pork, pour it with cold water and set it on fire – let it boil.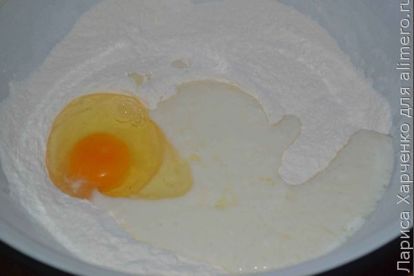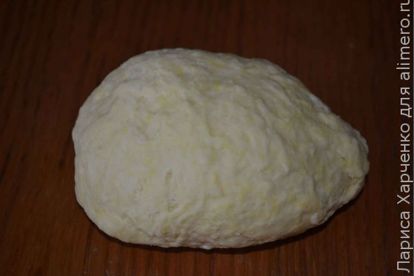 In the meantime, prepare the vegetables for the soup – peel the potatoes, onions and carrots.
Dice the potatoes, chop the onions, and grate the carrots.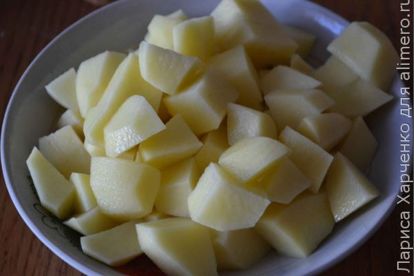 In 15-20 minutes after boiling the meat, we will send potatoes to the pan and fry the onions and carrots in oil.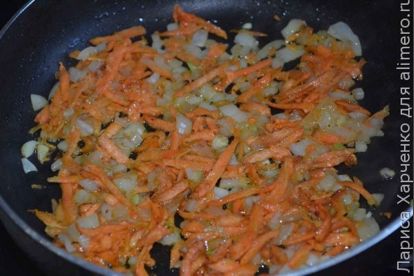 Now we come back to the dough – we roll it into a layer up to 1 cm thick, then we cut it into strips, and further into cubes – future dumplings.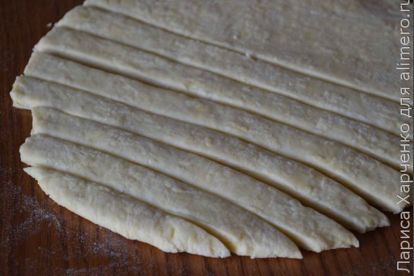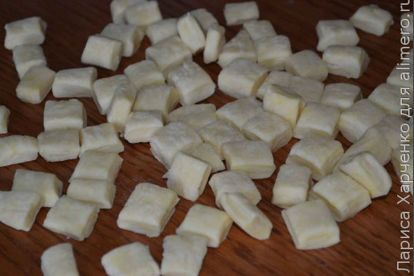 Dough blanks now need to be slightly fried in a heated pan with a small amount of vegetable oil – they are browned and slightly increased in size.

By this time the potato should already be almost ready – you can knead it with a spoon a little, and then put the dumplings in the pan and fry the onions and carrots. It's time to put salt and spices.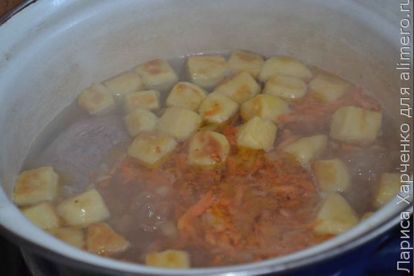 Let it boil, and in the meantime we will chop fresh greens and send it to the pan.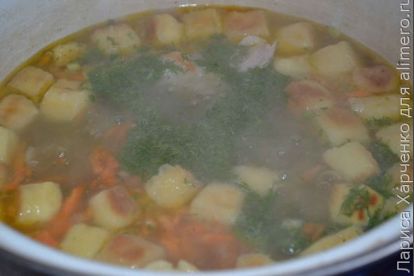 7 minutes of quiet boiling and the pan can be turned off – our soup with dumplings is ready.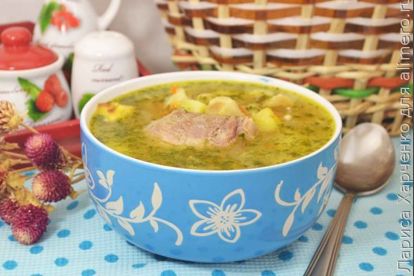 There are a lot of varieties of this soup. You can cook it on chicken or pork, make a lean dish or add a lot of fragrant spices. Perfectly combines dumplings with meatballs, potatoes.
If the hostess has a multicooker, the cooking process will be even faster and easier. It will only be necessary to cut all the components in random order, boil them in the meat broth, setting out the quenching program, and season with dumplings. Make them convenient while boiling vegetables.
Originally serving a dish is the height of skill, so if you are not able to do it yet, pay attention to the following tips. Lean soup is combined with rye bread and cilantro, pork – with croutons and garlic, beef – with wheat bread and cumin, and chicken with croutons and curry.
Soup with dumplings is of Ukrainian origin, where each region has its own unique recipe. Poltava is considered its homeland, where it is made not only from dough, but also from potatoes, buckwheat flour. The combination of them with butter and sour cream, along with cracklings make the dish especially tasty.
It may seem that the dish is too heavy for the stomach, but do not forget that it was invented to increase the satiety of the food intended to give strength to the peasants.
In Europe, dumplings are also common; there they are made from dough on eggs and milk. In Poland, they are called dumplings, in Italy, gnocchi, and in the Czech Republic dumplings. Varieties of pieces of dough are put into soups, eaten on their own with sauce or meat dishes.
Unleavened dough pads have their own cooking characteristics. First of all, the consistency of the dough should be noted – it is steeper and denser than the classic one. The composition includes eggs, milk or cream, butter. Sometimes spicy herbs, vegetables, and smoked meats are added to the flavor, and cottage cheese and cheese for tenderness.
Since the dumplings are boiled, it is important to make the dough so dense that it retains its structure after a long heat treatment. Butter and milk in the composition give the dough juiciness, tenderness and lightness.
After kneading the dough, you need to roll out, cut into pieces or nip off small portions with your hands in order to tighten the pads. It takes about 10 minutes to prepare, so lower them at the very end.
The scheme for the manufacture of dumplings is as follows: knead the dough from flour, finely ground, rich in gluten, with eggs, butter or margarine. All products must be prepared in advance and warmed to room temperature. Roll out the dough and form the pieces, but remember that you can not make them too large – after cooking, they will increase by 2-3 times.