Basically, cooking soups is not about 5 minutes. It takes a lot of time. Still would! After all, what is worth only one broth, which is boiled for at least 1 hour. Of course, the exception is chicken broth, then it is much faster.
However, there are still fast ways to cook soup – this is from canned fish. You will spend only 25-30 minutes on cooking this soup. Today's my recipe is one of those.
This is my soup one of the duty. It does not require a serious investment of time and any exotic products. It is prepared well, very quickly, and the main thing is simple. At the same time its taste is beyond praise.
You can cook a similar soup from a wide variety of canned fish. If you experiment every time, then you will get a new soup with a unique taste.
Degree of difficulty – easy.
Time for preparing – 30 minutes.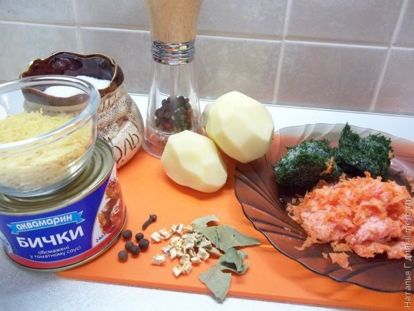 Cooking method:
If you cook fresh fish soup, the first thing you need to do is cook it and carry out all further manipulations with the ready broth.
If you do, like me, with canned fish, then start cooking soup on the water.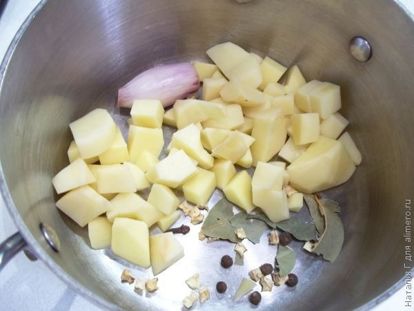 To do this, put the washed and chopped potatoes, peeled onions, bay leaves, dried celery root, allspice peas and cloves into the pan.
Fill with water and place the pan on the stove.