I saw salmon ridges on the market. Imagination immediately drew a delicious picture. In a saucepan, slices of my favorite fish, flavored with various goodies, are swimming. Everything, I will prepare, I decided, and, having come home, immediately realized my plans.
The fact is that this is not my first experience. First of all, this option from low budget ones is very inexpensive. Secondly, a very nourishing, tasty and healthy soup is obtained. And finally – it takes about half an hour to prepare it!
Ingredients Required:
Ridge salmon – 1 pc.
Water – 1 liter
Potatoes – 4-5 pcs.
Onions – 1 pc.
Carrots – 1 pc.
Tomato – optional
Bay leaf, spices and salt – to taste.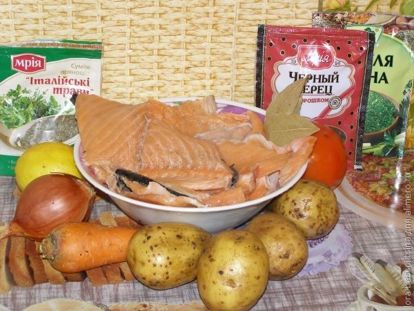 First we wash the back, cut it into pieces and send it to a saucepan with water. I, by tradition, always put a bundle of dried stems of various spices in such soups. I did it this time. After boiling, reduce the heat and do not forget to remove the foam.
Wash all vegetables, peel and cut into your favorite format. In this soup they will look beautiful in cubes.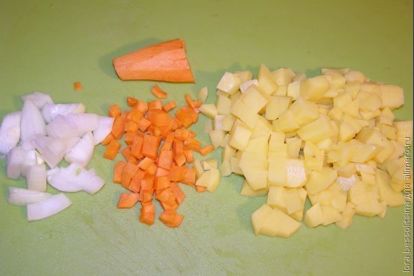 After about 10 minutes, we'll pick the fish out of the pot. Bring the water to a boil, and send the vegetables there. Those who love soups fatter, there is another option – to make a frying of onions and carrots. But since salmon is a fatty fish, I did not make a fry, and it was very tasty. When water boils, reduce the fire.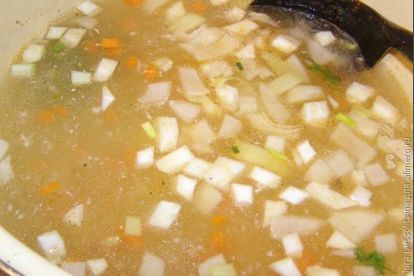 While we were cutting vegetables, the fish had time to cool. Take up her cutting. Our task is to separate the myasco from the ridge. Immediately I warn you – do not try to taste, otherwise there will be nothing left for the soup. It will be enough to crunch the cartilage! Well, the meat will be here in this format.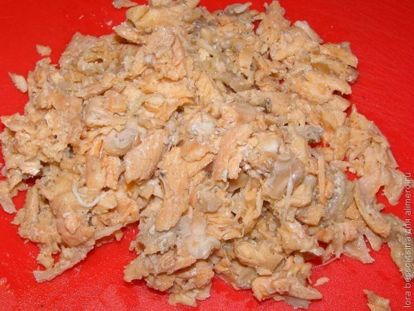 Vegetables have already managed to prepare, and 5 minutes before they are ready, we will put peas and bay leaves for them. If you like experiments, add a few slices of tomato – this is another flavor accent.
And then it remains for us to salt the soup to taste, pepper, add our favorite spices and salmon pieces.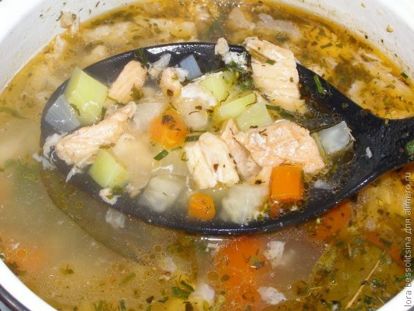 Bring everything to a boil, add finely chopped greens (here, by the way, dried is perfect) and turn off the gas altogether. Leave the pan. The soup should be steeped under the lid for a few minutes. By the way, the last stroke in my version was a thin slice of lemon, already placed in the plate.