We decided to cook pickle? And right! The soup is rich and nourishing. Of course, as many hostesses – so many recipes. Someone cooks pickle, introducing a variety of offal. Someone likes to cook it with meat – beef or pork. And today I decided to cook pickle from the breast. Well, I like this meat – dietary and tasty!
That is, we will break some rules today, because the recipe is not quite common, despite the presence of traditional products in it. First, there will be rice, not barley, as often happens. Secondly, the finished meat after cooking will be roasted to a crisp state. And, thirdly, we will also have such a great product, like celery. I think it will be unnecessary here to spread particularly about its benefits and chic taste. So, go ahead!
By the way, despite the many different operations, the soup is easy to prepare, and not for long – if the broth is ready, it will take about half an hour. But with boiling chicken you will cook for an hour.
Chicken Breast – 0.5 kg
Potatoes – 3-4 pcs.
Celery (root) – 35 g
Carrots – 1 pc.
Onions – 1 pc.
Rice – 0.5 cup
Salted or pickled cucumbers – to taste
Oil – for frying
Salt – optional
Bay leaf and pepper pot – to taste.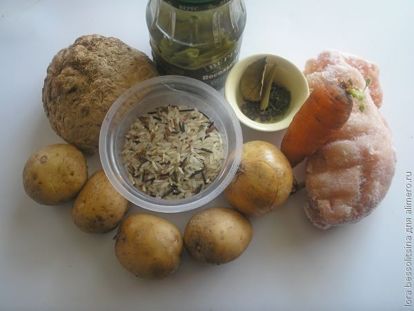 First, put the cook meat. Well, if you already have broth and chilled myasco. Then it will be enough to bring the broth to a boil and gradually add ingredients to it. Well, I guess that you have a raw chicken, therefore we will put it to cook, and we will be engaged in vegetables. We clean the potatoes, we put it first in sous, and cut it into small cubes.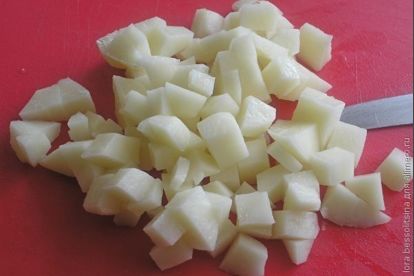 Then we clear the celery, onions and carrots and also we will chop them into small cubes. I really like this format – everything looks beautiful on a platter, and it's more convenient to eat. Send the vegetables to the pan, where the red-hot butter is already shkvarchit.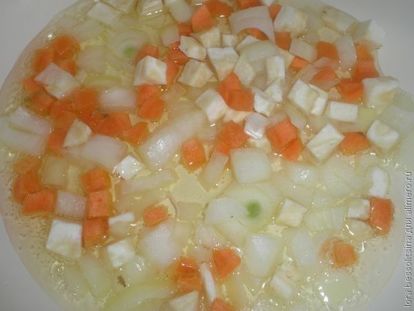 And now – the line of cucumbers. I had small cucumbers, because I cut them into small and thin circles. Send them to the vegetables, and fry all together for another 2-3 minutes.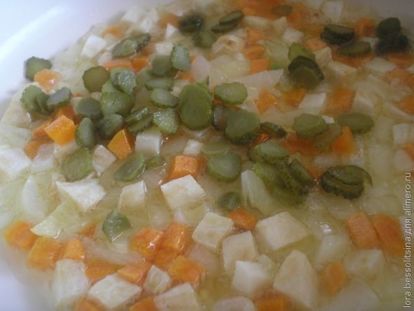 Chicken ready? Take it out and let it cool. In the meantime, put in the broth rice and potatoes. Why together? I had rice that cooks quickly, like potatoes. Since I do not like razvaryvshiesya vegetables and rice, cooked them for long. After all, rice, plus everything, then swell and the soup will be too thick. Now you need to remove the vegetables from the pan.
Oil is not drained, because it will roast a chicken, cut into small pieces. Cook it right up to a crispy state. This taste of the crust will be amazing!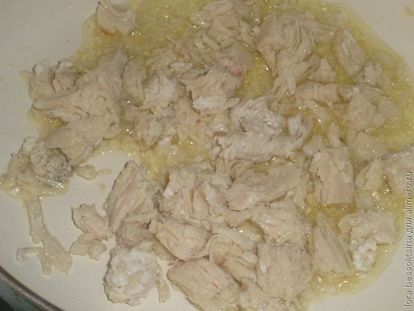 Did you notice that I didn't remember the salt? If you, like me, do not salt the food, you can just add a little pickle cucumber. By the way, if you keep the post, then the broth can be cooked from vegetables by adding stalks of dried dill, celery, or some of your favorite specialties. And the rest of the soup is prepared exactly.
Well, our next step is to add zazharki and spices to the soup.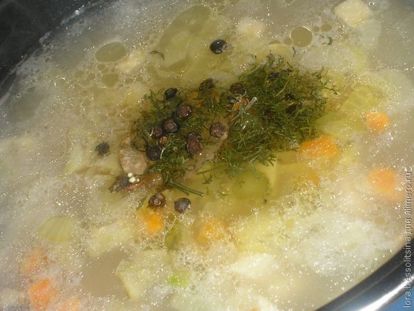 Let the soup boil and set the pan aside – let the pickle stand for 10 minutes. Then serve it with a crispy chicken, or, if you don't want to add calories, boiled meat cut into small pieces. Rassolnik was very tender and tasty.