What is soba? This is noodles based on buckwheat flour. Soba is considered a dish that came from Japanese cuisine. What kind of dishes do not cook the Japanese with buckwheat noodles. There are several types of traditional soups with you.
But today I would like to tell you the recipe for making a very simple bone soup. It's pretty simple and easy. The only difficulty may arise from those who would like to cook everything quickly. But the broth is prepared for quite a long time – 1.5-2 hours. Therefore, if you do not have this time, it is better not to start cooking, and set aside everything for a more convenient time.
Time for preparing: 2 hours 20 minutes.
The difficulty of cooking: below the average.
Cooking progress:

First we need to boil the broth on the bone. I usually use ready-made kits for borscht. First, pour the meat and bones with water and let them thaw a little for 20-30 minutes. Then I drain the water and refill the saucepan. I turn on the hob and bring the broth to a boil. Slightly lower the temperature and boil for 1.5 hours. During the cooking of the broth all the resulting foam must be scooped. Broth in the middle of cooking should be salted.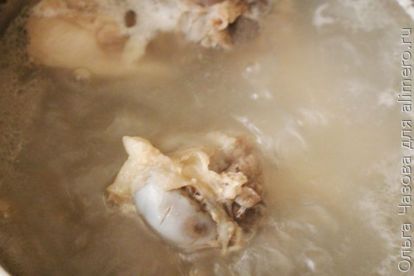 When the broth is cooked, remove the meat and bones. We cut the meat into small pieces and add to the soup. And the bones can be given to a familiar dog.
Now we take the potatoes. Wash it and peel it. Scratch young potatoes and peel them with a knife.
Cut potatoes into cubes or straws as you like. Dip potatoes in boiling broth.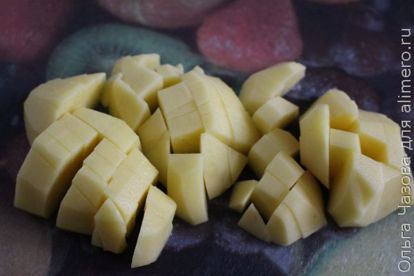 While the potatoes are boiling, wash and clean the carrots. Three her on a coarse grater.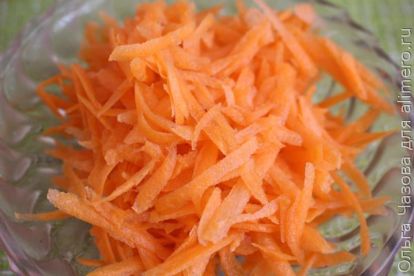 We clean onions from a peel. Cut it into a cube.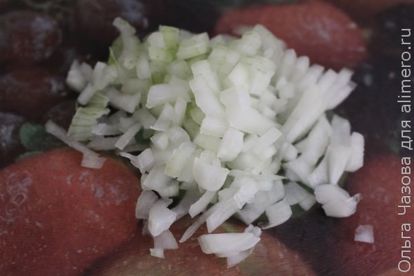 Lubricate the pan with sunflower oil and dip the onions and carrots in it. Pour some water. We add salt. Pass vegetables to readiness.
When the potatoes are cooked and become soft, we put buckwheat noodles in the soup.
My noodles were in the form of spaghetti. Therefore, I broke it several times and only then started it in the soup.
After noodles add browned vegetables. All mix.
Put a couple of leaves of Lavrushka.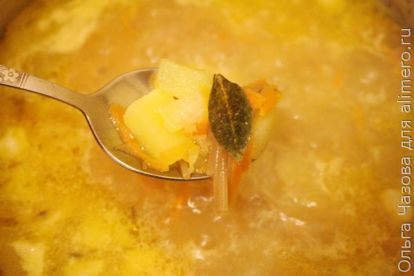 Cook for 3 minutes and turn off the stove.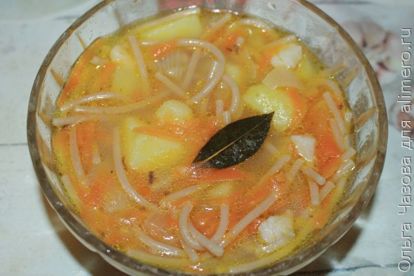 That's all, our soup is based on event. Now it can be poured into portions.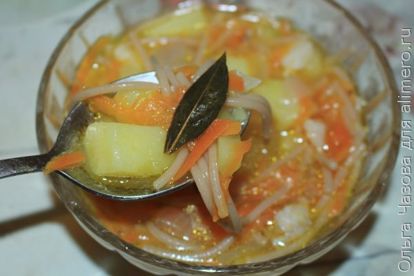 Bon appetit and good mood!