Fragrant potatoes with a tender eggplant without a gram of butter, yes, also fast! This unrealizable dream of every housewife can be realized. All you need is a baking sleeve and some of your time.
This dish will appeal not only to adults but also to children! Tested on a cousin, and he was only 10 years old. Ate one and a half portions! And to make him eat something useful is almost impossible. The rest of the relatives walked around the oven with a smile for half an hour.

Time for preparing: about an hour
Degree of difficulty: easy
For cooking you will need: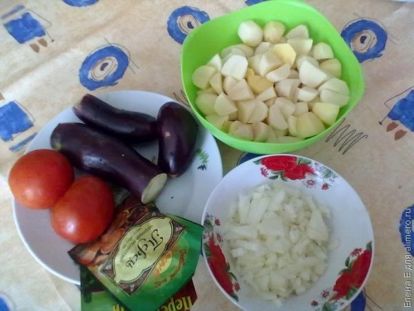 Products are listed for approximately 4 servings, so vary their quantity as you see fit.
Prepare the vegetables. Eggplant, potatoes and onions clean. Eggplants and potatoes cut into small cubes, finely chop the onion.
Tomatoes cut into half rings.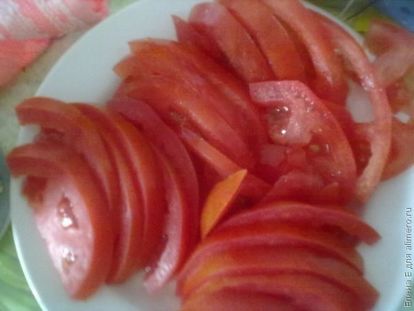 Eggplants salt in a separate bowl and let stand 10 minutes, then wash and squeeze a little.
Mix potatoes, eggplants and onions. Salt, pepper. Let stand 10-15 minutes.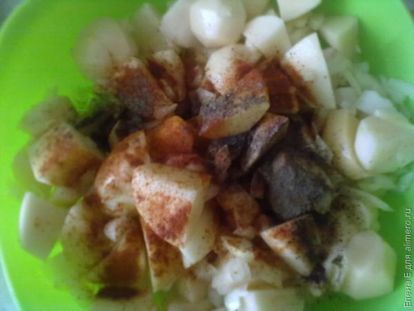 Cut off the sleeve for baking (I have about 40 cm). We fix it on one side and we will carefully lay out the vegetable mixture and tomatoes. We fix the second end. It should be approximately as in the picture.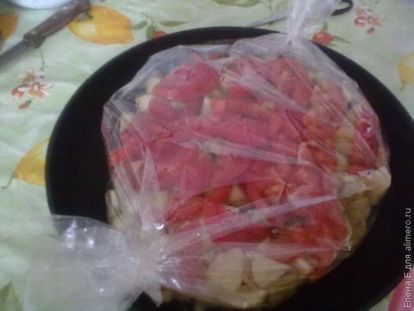 The sleeve is placed on a baking sheet or large frying pan. Sent in the oven (180-200 C) for 30-40 minutes (time depends on your oven) until the potatoes are ready.
Be careful when cutting the sleeves! Inside is very hot steam!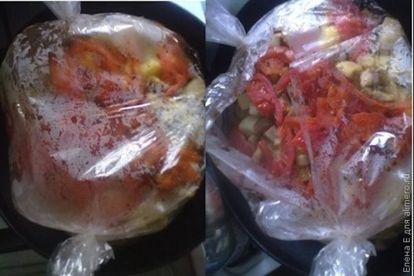 Decorate with greens to your liking. Serve as a separate dish or as a side dish for meat.