I love eggplants very much, I like them in different variations: boats with various fillings, rolls and even in the form of blanks for the winter. But still among the many dishes are those that are cooked in the oven, perhaps, my favorites.
If you cut the eggplants in different ways (stripes along or circles), you can take the same ingredients, but the picture of the finished dish will be different.
This time the eggplants were an addition to the meat-based chicken fillet and ham. To prepare all the ingredients and not forget anything, I took pictures of them, only spices and basil were not included in the frame.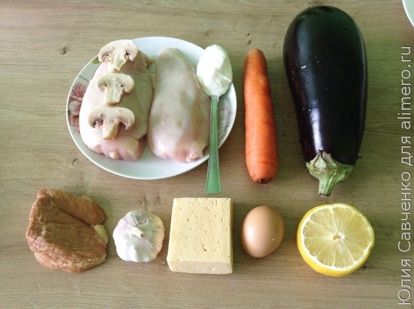 Ingredients:
Chicken fillet – 2 pcs.
Ham – 100 g
Eggplant – 1 pc.
Carrots – 1 pc. (or 2 medium)
Sour cream – 100 g
Chicken eggs – 1 pc.
Hard cheese – 150 g
Champignons – 5-7 pcs.
Lemon (we need juice) – 1/2 pcs.
Garlic – 3 cloves
Basil
Salt, spices
Complexity: minimal
Time for preparing: 60 minutes
Stages of cooking:
Chop chicken fillet, slightly beat off (it is convenient to use for this purpose food wrap or plastic bag so that the hammer remains clean and the loose pieces of fillet do not fly throughout the kitchen).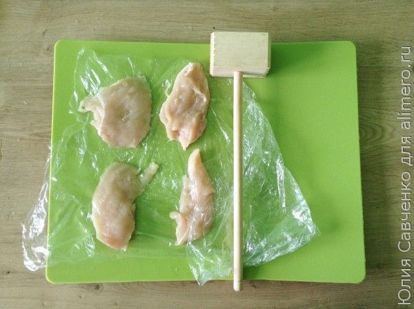 Prepare the marinade for the fillet, which should be mixed 1/2 of sour cream, chopped garlic, lemon juice, spices. Lubricate the bottom of the bowl with the resulting sauce, lay out the fillet layer, repeat the sauce again, then the fillet, and so on.