This delicacy is just perfect in order to make a company for all kinds of sweet biscuits and other similar things. I remember how I tried it for the first time – in my distant youth. Accidentally, more sugar poured into sour cream, cooking something creamy after school. Mixed, added there cookies and nuts. Liked. And then in adult life, this experience is used very widely.
Delicate structure of sour cream and the ability of sour cream to be combined with any products allow you to work wonders. It's just something else next time we put, say, not vanilla, but cinnamon, and you already get another cream. And how delicious it is in honey cake! I adore him not only with shortcakes, he well permeates different pastries.
Yes, it is not a sin and just like that, eat it with a spoon or smear it on a loaf. I had wafer shortbreads. So I picked up an interesting recipe sour cream, making it his own.
Time for preparingA: 15-25 minutes, it all depends on the number of components and handy tools
Complexity: very simple!
Cooking

I had peanuts, and usually I take walnuts. It is better that they are well roasted, then the taste of the cream will be even more amazing.
I warmed the pan tightly. Poured nuts into it. And fried, endlessly turning them over.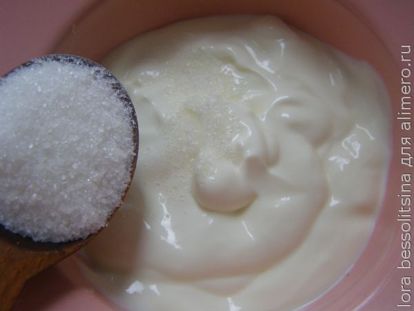 Now our task is to whip the cream. No whisk and mixer is not present in the kitchen? Not scary. Just a little longer with a fork will be, and so – everything will turn out, the main thing is to combine sugar with sour cream so that it dissolves.
Well and we will cut banana. I had a little one. All went.

Let us clean the nuts from the husk, and on a white background brown husk will spoil the whole look. And crumble them. To what extent? Everyone decides for himself. I love nuts to crackle on my teeth. Because crushed to such a state. Than? Rolling pin!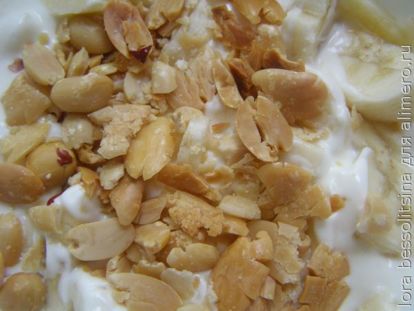 That's all. Put banana in sour cream. Stir.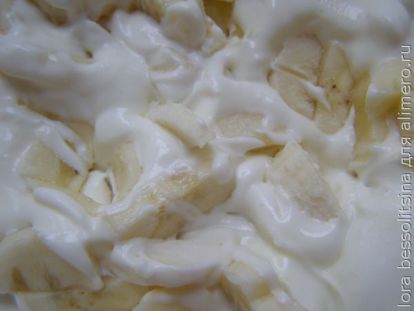 The cream is ready! Smear on what you have prepared. I smeared on a wafer leaf. It turned out delicious!