Jelly is one of the favorite desserts of not only children, but also their parents. In the distant Soviet times, jelly was very limited in taste. In our time, there are many flavoring options and cooking methods.
You can start the classification from standard strawberry or cherry jelly, and finish with a variety of gin and tonic, mojito cocktails, syrups, flavors and other ingredients. As a result, dessert jelly tightly entered our lives!
The fact that my family and I love jelly, you probably already noticed everything. And today I want to share with you another option for its preparation. The composition of this jelly includes cottage cheese and apricots. Cooking is not at all difficult; the main thing is to arm yourself with the necessary kitchen equipment, such as a food processor and a blender.
I prepared it, as they say, for every day. Therefore, I used portion dishes. If you make it for a holiday, cook in the form of a cake and decorate with fresh fruit on top. I am sure that this cake-dessert will be a real king at your celebration.
By the way, this dessert is not only tasty, but also healthy – it contains gelatin, which includes collagen. And this is an indispensable thing for tendons, ligaments, joints and bones. In addition, it is also necessary for the health of nails and hair. So let's cook, eat and eat.
Degree of difficulty – very easy.
Time for preparing – 15 minutes for cooking and 1.5 hours for freezing.
Ingredients: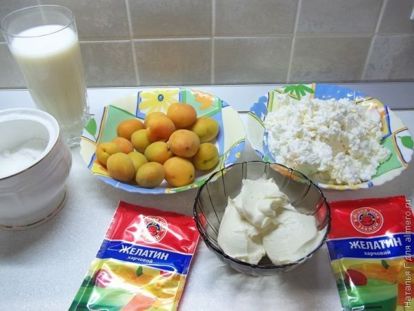 Cottage cheese – 250 grams
Milk – 250 grams
Sour cream – 2 tbsp.
Sugar – to taste
Apricots – 10 pcs.
Gelatin –30 grams
In the food processor, install the cutting knife attachment and put the curd and sour cream in it.


Add sugar.