I really love raspberries! But in its pure form, I cannot eat more than a few pieces without consequences … Due to the increased acidity, my stomach starts to hurt. In the same dessert – is another matter! 😉
At the same time I am very pleased that the vitamins do not disappear anywhere, because raspberries are used in raw form.
Level of difficulty: in the presence of a blender – the minimum
Time for preparing: 15 minutes (but berry ice needs to be done in advance – this will be discussed below)
Amount: 2 servings
For this dessert, I used the following foods:
My version requires early preparation of the decoration. For this, I took raspberries (besides the glass that is required directly for the dessert), and I made it with a blender.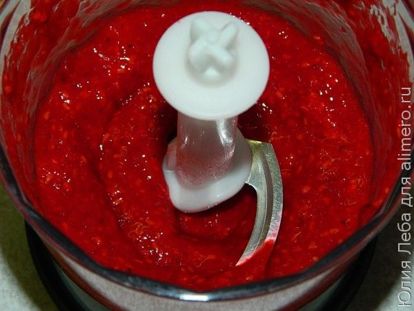 Laid out in a silicone mold for ice. You can use plastic, any form. I have stars and shells. Put it in the freezer until it freezes.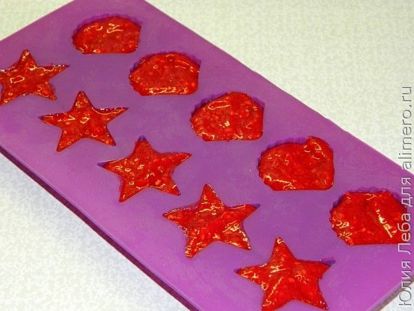 By the way, such ice pieces perform not only a decorative function. They can be used not only as an addition to various desserts. They are perfect for ice cream! You can even just put them in the water and get a kind of juice … In general, as fantasy tells;)
Started directly to the dessert itself:
A glass of fresh raspberries, again, fell asleep in a blender.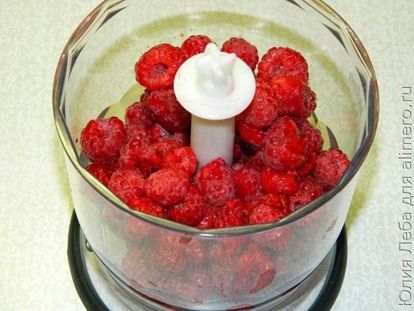 Poured whipped mashed potatoes at maximum speed in cups.
Now moved to the main part – cottage cheese. I used the home, and you can take the store and – the fat, which is more like.
Poured milk to it and added icing sugar. It is better to use it, and not sugar. If there is no powder, you can easily grind the sand in a blender (which I am doing, because I have not been buying store-style lately).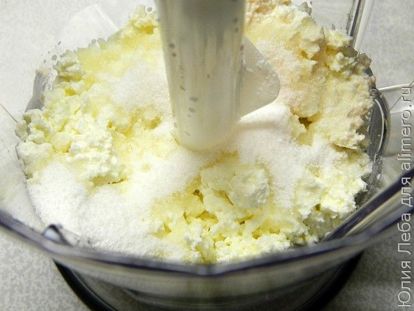 Beat up the sweet milk-curd mass and arrange in glasses. It is much heavier than raspberry puree, so it will first drown in it. This is a plus – the finished dessert almost does not need to be mixed.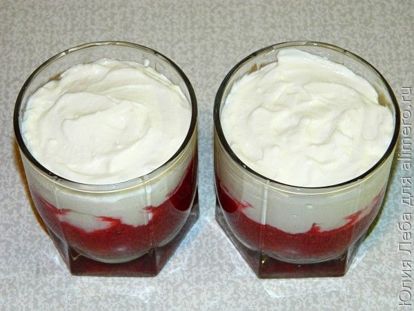 Well, now I've got raspberry ice out of the freezer and decorated the top of the dessert with bright asterisks.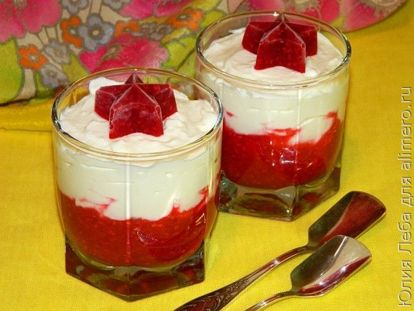 You can eat right away, but you can send it in the fridge. In the latter case, the ice on the top slightly dims, but the form is saved.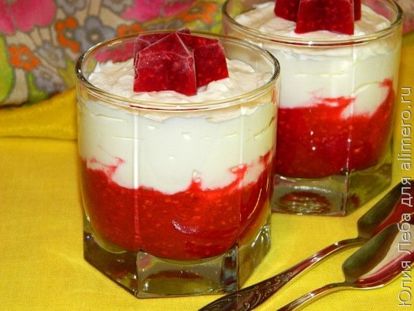 In my opinion, such a dessert is not only a good snack, but also an excellent breakfast! Healthy, tasty and not very high in calories!