A few years ago I got hooked on a cottage cheese dessert from one manufacturer (I don't want to make an advertisement, so I'll not call it). I will not advertise because the quality of products from this manufacturer has deteriorated significantly. If earlier I could with great pleasure eat a package of a delicious dessert with cherries or blueberries under a thick layer of chocolate glaze, but now, instead of packaging with pleasure, I can overpower only half.
Yes, my figure will say thank you for being able to lose weight, but after all, cottage cheese dessert is not only extra sweet calories, but also benefits – cottage cheese and fresh berries. Now, so that such a composition is well preserved, the manufacturer also adds a good portion of preservatives. And I need it?
I decided to cook a cottage cheese dessert, as it was before, but at home. For several preparations picked up the necessary components and texture. I am happy with the result, like an elephant, and I hasten to share the recipe with you.
For the preparation of cottage cheese dessert with blueberries, such products are necessary:
Time for preparing: 10 minutes
Complexity: super tasty and super fast
In general, the main ingredient of this dessert is cottage cheese. The taste of the dessert will depend on its taste and quality. Therefore, choose a soft cheese, not dry, with a slight sourness. The fat content of cottage cheese is at least 9%. It is best to make homemade cottage cheese, if there is such an opportunity.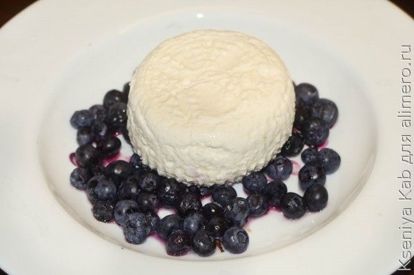 We combine cottage cheese and blueberries (leave some berries for decoration).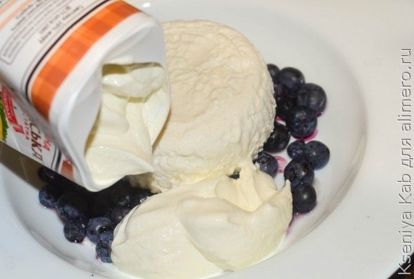 Add fatty sour cream.


Add sugar to taste.
Make mashed potatoes with the help of an immersion blender.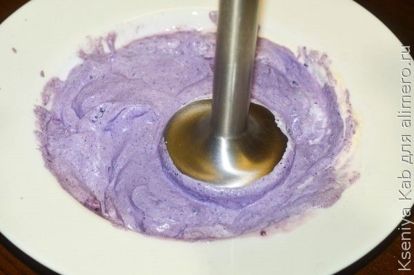 Pour the curd mass in a bowl or a glass.