Continuing the pumpkin theme today I present to your attention a recipe for cheesecakes with baked pumpkin and apples.
All that is needed for the recipe is cottage cheese, apples and pumpkin. We still leave cottage cheese on the sidelines, and bake apples with pumpkin in the oven. We bake the apples whole, and cut the pumpkin into small pieces. So we balance the time for baking. 20 minutes will be enough.
And now everything is in order. Take the following ingredients:
Cooking time without baking – 20 minutes
We collect all the most necessary ingredients for cheesecakes. In the oven already cooled apples and pumpkin. We put them in bowls and proceed to the preparation of cheesecakes.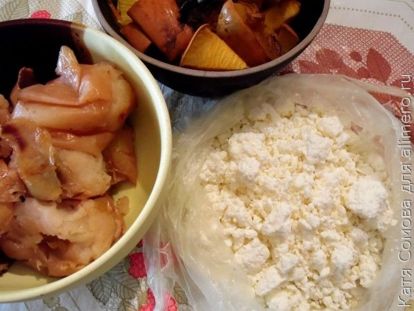 Cottage cheese combine with eggs and sugar. We grind it in order to stretch the curd and save it from lumps.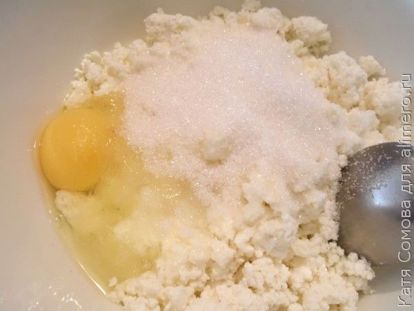 We clean the skin of the pumpkin, remove the middle of the apples. We connect all together.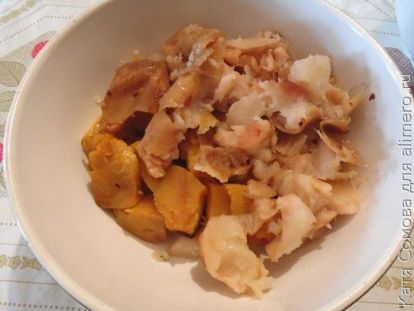 Now using an immersion blender, beat the pumpkin with apples in mashed potatoes.
If there is no blender, everything can be ground through a sieve or, in extreme cases, knead with a fork.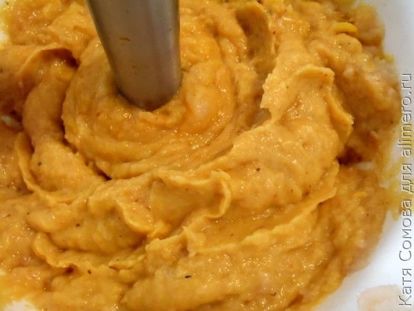 Add this mashed potatoes to cottage cheese. Ideally, it should be 50 to 50 cottage cheese and pumpkin and apple puree. Add a little more sour cream to taste.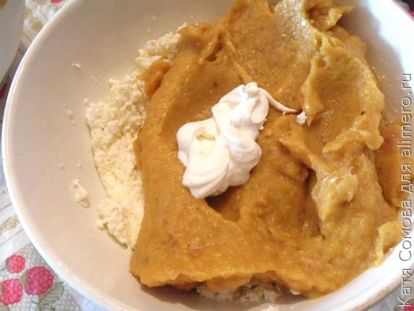 Mix everything, add flour and a little vanilla sugar. Knead cheesecakes. The mass should be thick, since we will form cheesecakes with the help of a spoon. Although it is possible to form cheese balls with wet handles. I think this is not so fundamentally important.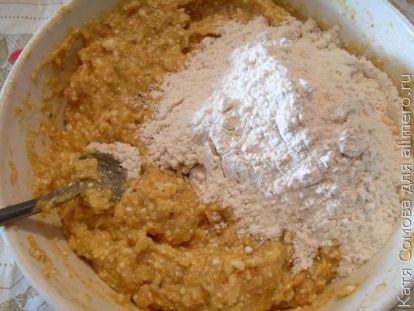 In vegetable oil fry cheesecakes on both sides to a bright golden color.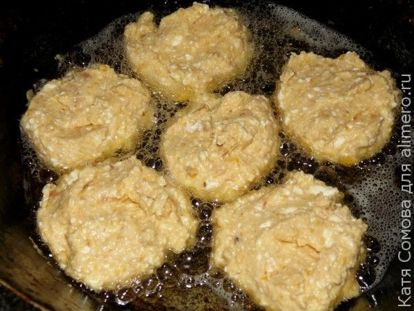 On a platter, already separately decorated cheesecakes with sour cream and black currant berries.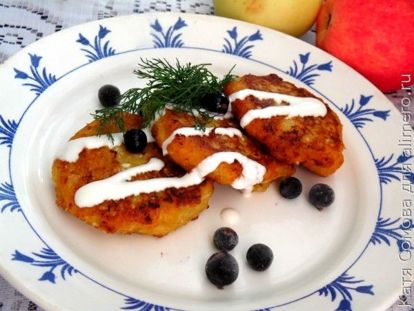 Enjoy your meal and sunny days of autumn!