The recent pie with Xenia's oyster mushrooms did not leave me indifferent – I really wanted to repeat this recipe;) But, alas, for some reason, oyster mushrooms are sold here rarely, and finding them on the market or in the supermarket is a whole problem. But when I finally found them, I did not buy half a kilo, as required for the recipe, but as much as 3 kg!
What did I cook with mushrooms? First of all, of course, the pie! 🙂
Then I put out some of the parts and froze them, for it is not known when I will get the oyster mushrooms the next time. But I also cooked delicious minced meatballs, and I haveten to share their recipe with you 🙂
Caloric content – 190 kcal / 100 g
Cooking time – 45 minutes
To make minced oyster mushrooms, the following ingredients are needed:
I washed the oyster mushrooms well and cut them into pieces (like on a vinaigrette). Laid out in a deep bowl.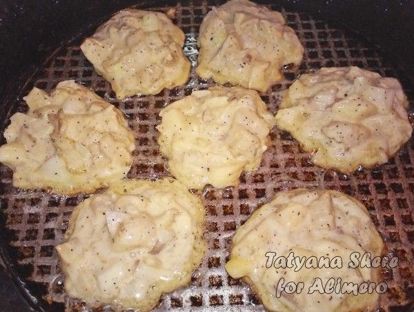 Fried on one side on the fire, slightly less than the average. Then the meatballs turned over, covered the lid, reduced the fire and roasted for another 4 minutes.
Here are ready burgers! They turn out very gentle.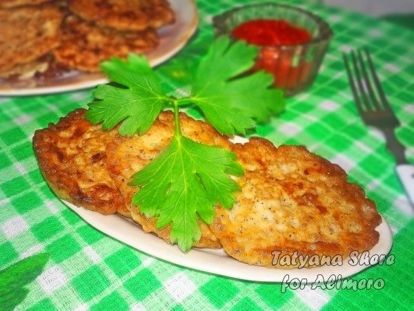 What did I serve them with? Yes, with anything – and with cereals, and with kartohu, and with salads. I also made sandwiches: I put a circle of pickled cucumber on a slice of black bread and a chop on top.
In general, very tasty, I recommend 🙂
By the way, my husband, having tried these cutlets, asked in surprise: Have you decided to feed me with chicken cutlets? And indeed, they taste a bit like chicken.
I wish you bon appetite too!