Despite the lack of meat in carrot cutlets, they are very tasty and healthy. Of course, such burgers are not loved by everyone. But those who tried my carrot cutlets were satisfied, and some were even surprised to learn what they were made of. Therefore, I make this vegetarian dish quite often.
And besides, carrots are a very useful product with a high content of vitamin A and antioxidants. What allows us to maintain our vision is normal, and the skin is smooth and beautiful.
Another indisputable advantage is that costlets for burgers are cheap, so this is very profitable for the family budget.
Time for preparing: 50 minutes.
Ingredients for cooking 12 pieces of carrot and cheese cutlets: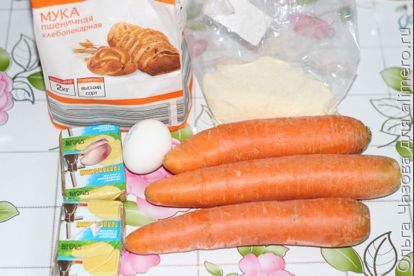 We start with cooking carrot mince. To do this, wash the carrot well and clean it with a knife from the skin. Then grate the carrot on a coarse grater.
Carrot immersed in a saucepan and pour 2.5 cups of water. We put on a heated plate. Carrots should be cooked to good softness. This is approximately 15 minutes after boiling. Appear the foam remove skimmer or spoon.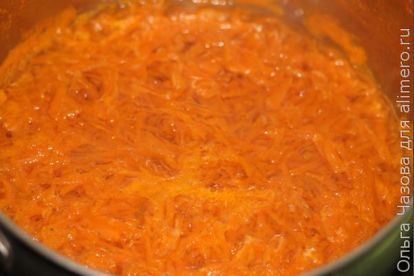 After cooking, pour excess water from the carrot and knead the carrot with tolkushka. Although you can get along with a fork, as grated carrots after cooking turns out very soft and almost homogeneous.
Give carrots to cool slightly. Then rub on a coarse grated processed cheese.
Combine carrots and grated cheese. Add the garlic. Garlic can be very finely chopped or crushed on the garlic press.
Add fine wheat flour. We break into the resulting mass raw chicken egg.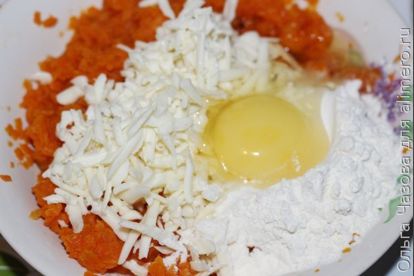 Stir. If the stuffing turned out to be watery, then add more flour. I got a total of 5 tablespoons of flour with a slide.
We form patties from carrot-cheese mince. Cutlets are crumbling in semolina. And spread on a well-greased sunflower oil pan. Cover the pan with a lid. Fry the patties on both sides. About 5-7 minutes on each side.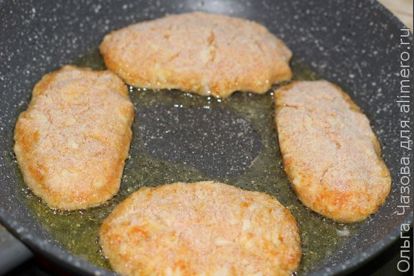 From the resulting mass I got 12 meatballs.
Cutlets can be served with garnish, vegetables, salad, sour cream, etc.
I served these chops with sliced ​​tomatoes, green onions and sour cream.
Bon Appetit everyone!