In my opinion, tartlets are a great snack. Fast, easy, beautiful and tasty! What else is needed? 🙂
Also, I adore dough. In this case, the only thing required is to choose good tartlets, because they also come across different ones.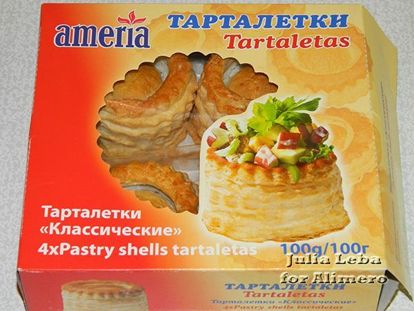 I used those whose taste has already been tested. They are quite high, while not very deep. Therefore, the filling is better to generously impose a height))
Having decided to make stuffing from cottage cheese, for some reason I came across completely sweet options. I do not argue, they can also be very tasty, but I was pursuing a completely different goal – namely, a good snack for wine, and I had a sweet dessert separately.
And so I finally settled on a suitable variant, which, having tried, approved everyone without exception. I want to share them with you!
We crush nuts. You can chop them finely with a knife, and you can knead in a mortar, as I did. Some of them I pushed almost into flour, some just finely.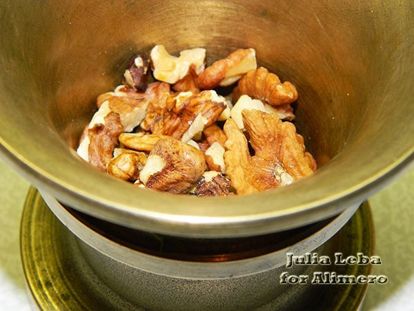 Squeeze the garlic through the press. We salt, we pepper. It is better to use freshly ground pepper, so the filling will be fragrant. I used a mixture of white, pink, green and black peppers.
Rub the garlic with salt and pepper. Again, it was more convenient for me to make a mortar and pestle.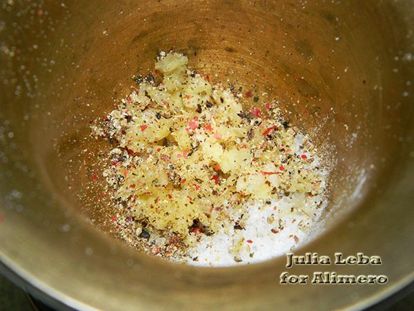 Combine nuts and garlic mass. We spread cottage cheese to it, softened butter, chop fresh dill. I do not recommend skim cheese for such a filling. I had a 9%. If the calorie for you does not play a role, you can take and more fat.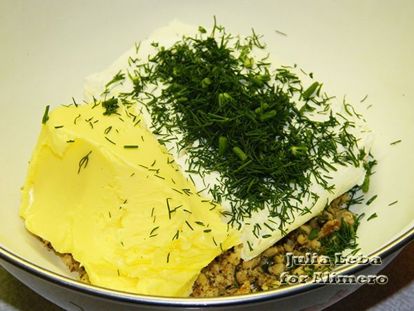 Mix thoroughly until smooth. All – she is ready!
And now it can be used in different ways. Three options that I like the most:
one. Put the mass on pieces of bread, dried in a hot oven or fried in a pan (again, without oil). As a result – great sandwiches!
2 Cut out small pieces of square or round shape from wheat, rye or bran bread. You can fry. Put the prepared mass on top. Get tasty canapes!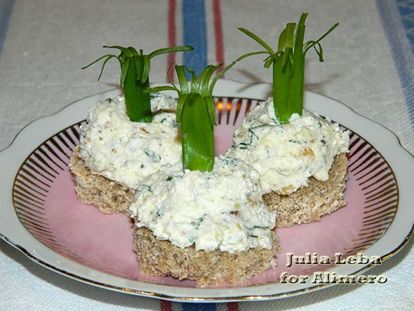 3 And less troublesome option, which, moreover, always looks festive – tartlets!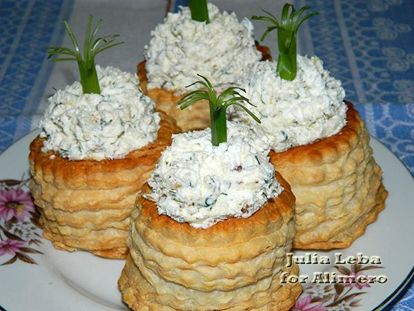 With any kind of tartlet filling, it seems to me much tastier if they stand and get well soaked. Therefore, it is better to fill them in advance.
And which of savory types of filling for tartlets cook most often you?