Today I want to share with you the most successful kurnik recipe I've ever tried!
You do not know what Kornik is and how it is cooked?
It turns out that this is an old Russian pie that our grandmothers cooked in a Russian stove.
It consists of dough, pancakes and toppings. Originally Kurnik always done with chicken. Apparently, the name for this pie originated from this. Now there are recipes for cooking it and without chicken meat.
But today I will tell you how I cook this old Russian pie with chicken.
The pie turns out very nourishing and tasty! I advise everyone to try it without exception.
Complexity: for a beginner it may seem difficult, but, in principle, everything is elementary.
Time for preparing: 2.5 hours
Ingredients for the dough:
Ingredients for the filling: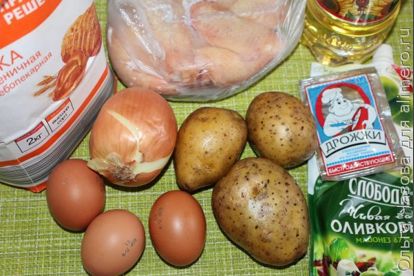 Working process:

So let's get started. For the filling of the cake, we will use boiled chicken. Therefore, we need to cook it. There is nothing complicated about it.
We just take a saucepan, pour water into it, drop a couple of legs there, chicken breast or thigh (any part of the carcass is perfect for the chicken choke). Salt water, bring the chicken meat to a boil, reduce the temperature and cook over moderate heat for 45 minutes.
In the meantime, the chicken is boiled, we start a yeast dough. I usually use dry instant yeast for this test.
Pour flour in a cup – 1 kilogram. Then add to the flour yeast, a tablespoon of sugar, a tablespoon of salt and some sunflower oil – literally two or three tablespoons. Pour about two glasses of water. Knead the dough by hand. And leave it for 40-50 minutes in order for it to rise.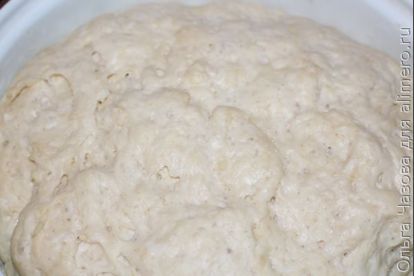 Now let's prepare the filling and put two chicken eggs to boil.
We'll need pancakes for the chicken as well. You can take ready. And you can specifically bake. They are baked very quickly and simply. Break the washed egg into a cup. Add there 4-5 tablespoons of flour, a teaspoon of salt and about a glass of water. All mix and bake pancakes. We should have 4-5 pieces. This is quite enough for kurnik.
Then we need to peel and cut the potatoes into slices.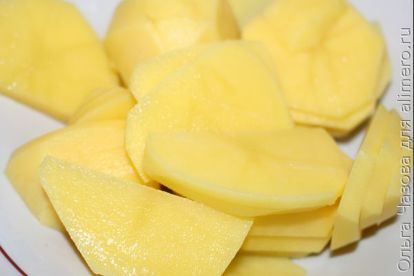 Peel the onions from the husks and cut them into cubes.
Grate chicken eggs.
Wait until the chicken is cooked and gut it into small pieces.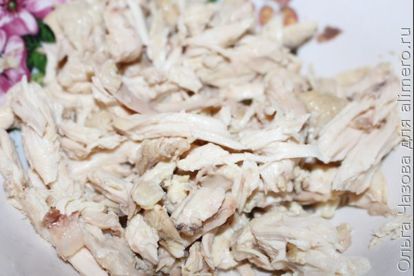 During this time, the dough should come up. And you can start cooking.
Lubricate the baking dish with sunflower oil. Roll out the yeast dough in a circle. The diameter of the circle should be about 12-15 cm larger than your shape.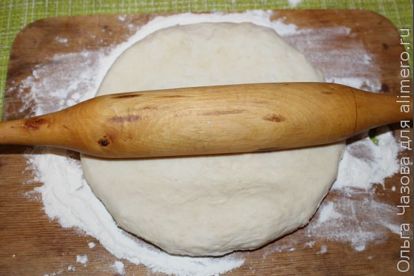 Put the dough in the mold.
Put potatoes on the bottom, add some salt, you can add seasonings for taste.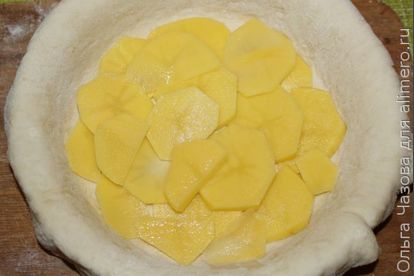 Potatoes grease with mayonnaise.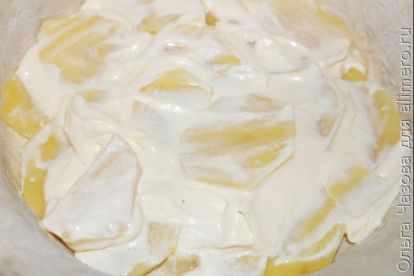 And put the pancake on top.
The next layer will be chicken. We lay on the pancake chicken. If the pieces of your chicken are greasy, you can not grease it with mayonnaise, but just cover the chicken layer with pancake right away. And if the chicken is dry, for example, breast fillet, then mayonnaise will not interfere.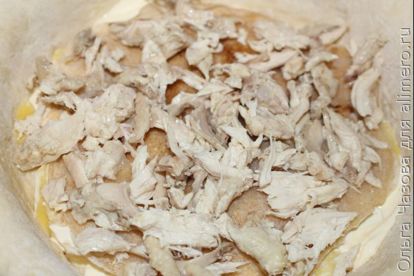 After this comes a layer of onions. Onions we grease with mayonnaise, and put the pancake on top.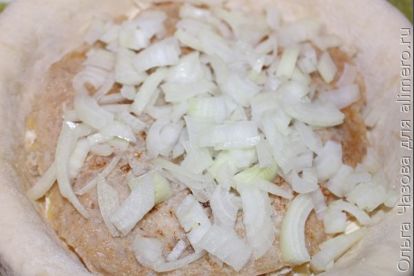 And the last layer is egg. We spread on the pancake grated eggs.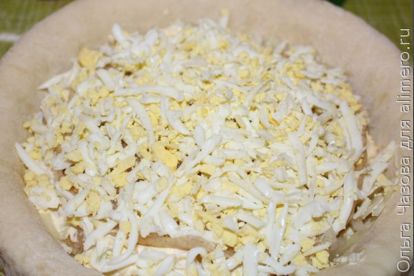 And cover them with mayonnaise.
Put a pancake on top. Pancake again greased with mayonnaise.
Now you can close the rosette. Raise the edges and glue together. In the center, leave a small hole for steam.
We turn on the oven at 150-180 degrees, put the kurnik inside. In 40-50 minutes our chicken pie will be ready. Immediately after you take the cake out of the oven, he needs to lie down under the towel for a bit and shut it off.