Lyulya-kebab – oriental cutlet, fried over coals on a skewer. In contrast to the familiar to us cutlets in Lyulya kebab, neither eggs, nor bread, only meat and seasonings are added. In order to mince when frying kept on the skewer, it must be carefully repelled.
I will prepare not quite traditional kebab today. Instead of classic lamb I will use mixed minced pork and beef, and I will fry it on the grill pan. Of course, to taste it will be different from kebab, cooked on charcoal. This deficiency is compounded by an abundance of herbs, vegetables and, of course, sauces. Instead of skewers I use wooden skewers.
To prepare the kebab, you will need the following products:
Degree of difficulty: average
Time for preparing: 45 minutes
For cooking lyula kebab, first of all, prepare minced meat. Twist the meat with onions in a meat grinder, you can twist twice. Cut a large bunch of greens with a knife. Mix the minced meat with salt, ground black pepper, greens and onions.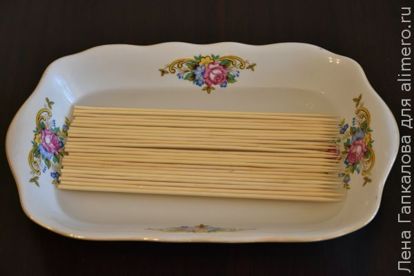 Forcemeat divided into equal parts. Form elongated patties around a wooden skewer. Form the patties as you prefer. You can make a cutlet, and then poke it with a skewer. From this amount of stuffing I got 14 kebabs.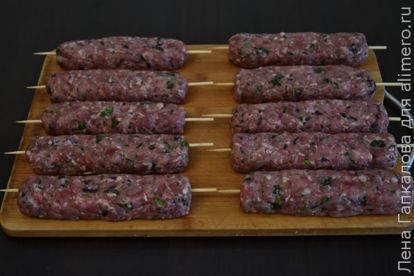 It is advisable to cool or even freeze a little in the freezer before frying the kebab.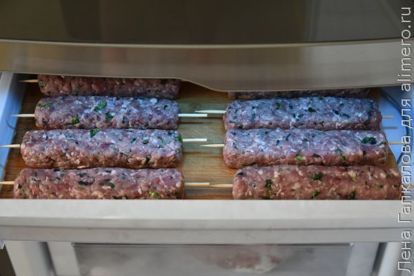 Fry lula kebabs on the grill pan without adding oil. Before frying the grill pan, heat well. Fry kebabs on medium heat. First, fry until the characteristic grill strips appear, then cover the pan with a lid and bring lula to full readiness.
The remaining kebabs can be folded in a bag and stored in the freezer.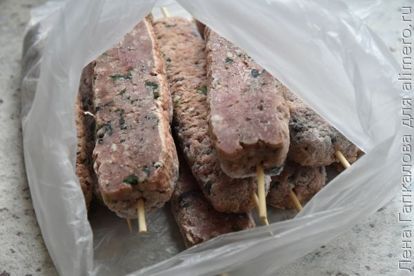 Serve lula kebabs with pita bread, pickled onions, greens and vegetables. And do not forget the sauce).