Today, we had nothing for tea, and there was no desire to cook, because day after day, both the street and the house had a terrible heat. In this weather, you need to sit in the sea and enjoy the rolling waves. But we cannot do this either, since we found E. coli in the sea and the beach was closed.
So now we are sitting at home, drinking tea and a lot of other liquids to help the body cope with the heat that has already bothered us. But drinking tea without anything is somehow indecent in our family. My boys require something sweet.
In the fridge I had sour cream, a few eggs, and what else is needed to make sour cream? I decided to try to bake it in a slow cooker, because in the oven I had already baked it several times, but had not yet tried a slow cooker for this recipe.
To prepare a sour cream in a slow cooker, the following products are needed:
For cream you need:
– 1 cup sour cream
– a few spoons of sugar
– 1 glass of pitted cherries
– coconut chips
Dough preparation takes a minimum of time. First, take the cooled eggs.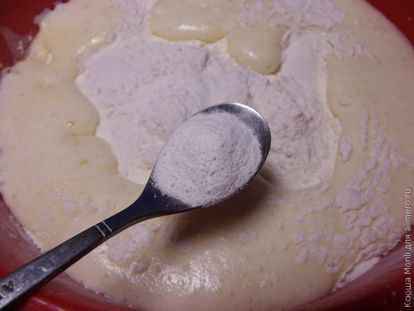 Add cocoa so that it can be mixed with flour.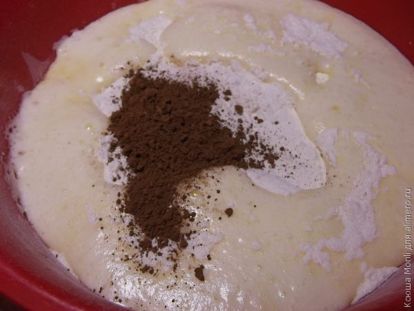 Add raisins as desired.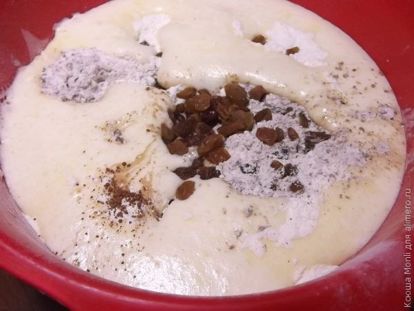 Knead the batter, which we pour into the bowl of the multicooker (it can be pre-lubricated with a small amount of unscented butter or vegetable oil).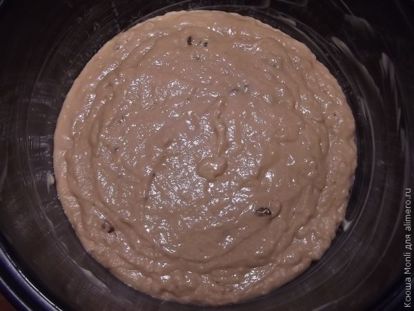 We send the bowl with dough to the slow cooker and turn on the Baking program. With the lid closed, bake the sour cream 1 hour 10 minutes (after 1 hour, sour cream is checked for readiness).


Ready cake cool and cut into three cakes.


For cream, whip sour cream with sugar. Lubricate each crust with cream, sprinkle them with pitted cherries.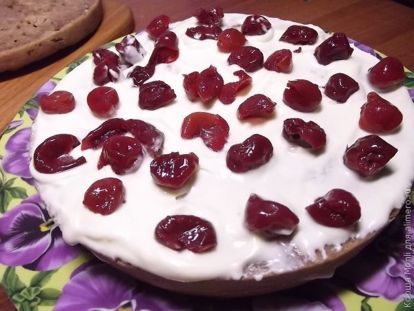 Sprinkle the top layer with coconut chips. We decorate with cherry.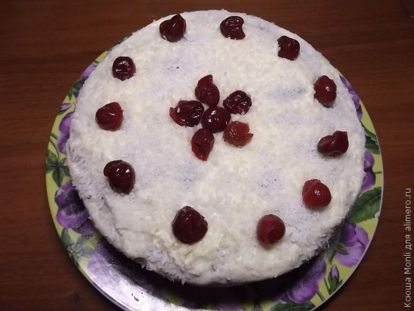 Smetannik should be well soaked. For this, he needs to rest for a few hours in a cool place.
Serve ready sour cream to the table, and hide the rest in the refrigerator.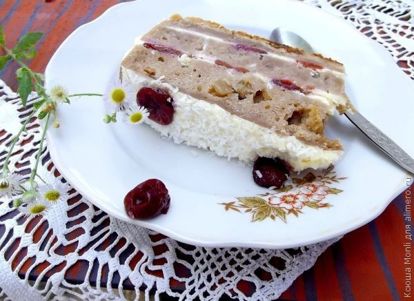 Enjoy your meal!