I heard about the roasting sleeve many times, saw it on sale, but never bought it. I even do not know why. Probably just quietly without it. Or maybe nothing?
Not so long ago, I came across such a box on the counter of the store (baking sleeve is usually sold in the same departments as foil, parchment paper, food film, etc.).
Why not try it ?, – flashed through my mind. Moreover, its cost is low. If you do not like it, there will be no bitter regrets about wasted money. She did.
What kind of beast is this?
For those who, maybe, never came close to the sleeve for baking, I will tell you briefly what he is.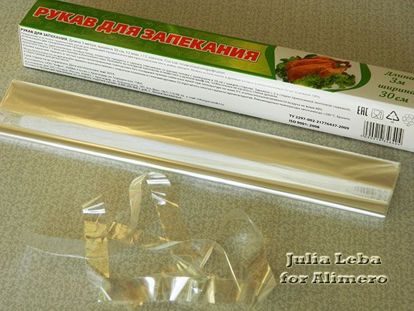 This is a film wound into a roll (package), soldered on both sides (the set also includes strings). My first association with him was the packaging for the decor of cut flowers. Only those, unlike the sleeves, had a conical shape.
The length of the sleeve, which I bought, is 3 meters, and the width is 30 cm. Thirty centimeters will be enough to cook absolutely any dish, and the length will be several preparations, at least 4-5. At a cost of 27 rubles, this is not a problem.
Despite the simplicity of design, the roasting sleeve has its own characteristics of use, which must be taken into account.
one. The sleeve can be used in ovens, microwaves (in microwave mode), as well as in freezers for freezing food. The latter is not particularly inspiring. In my opinion, special packages with a lock for these purposes are much more convenient.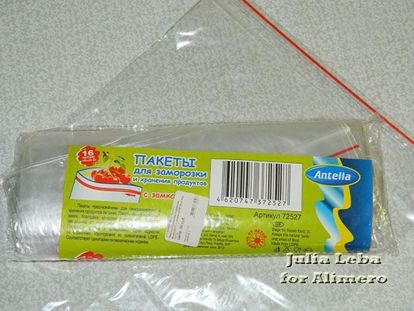 2 In no case should you allow direct contact of the sleeve with the walls or ceiling of the oven, and with an open flame all the more. Otherwise, it may burst. Lay the sleeve should be on a cold pan / shape / pan (not on the grill!). And take into account that during baking, it will swell.
3 The temperature of the oven also plays an important role. Recommended – up to 200 degrees. In some cases – up to 230 '. In my opinion, 200 'is enough for cooking any dish. After all, no puff pastry in it to bake;)
four. It is important to correctly determine the length of the sleeve when preparing a particular dish. What does this look like in practice? For example, I want to bake fish (I will share this recipe with you in the next topic). I am about to determine the size of my fish, add another 20 centimeters to it and cut off such a length from the roll.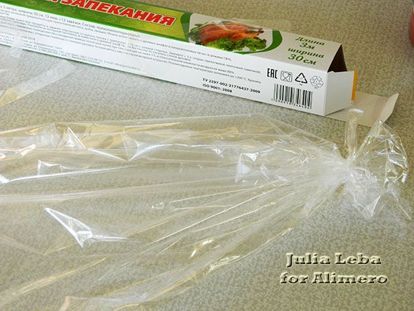 Stepping back from the edge of 10 centimeters, I tie one end of the sleeve. Then I spread the products for baking and, again using the ties from the kit, fix the second end of the sleeve. It turns out a kind of present))
five. You need to remember about safety. Taking the finished dish out of the oven should be careful to open the sleeve. After all, you can get burned steam.
6 Before you put a baking sheet with a sleeve in the oven, it is better to make a few punctures on it. With their help, extra steam will come out during cooking. If you want to get an appetizing crust on the finished dish, then 15 minutes before the readiness is ready, the sleeve should be cut and opened, remembering paragraph 5.
Unfortunately, there is no definitive answer to this question. It is all about the material from which the baking sleeve is made. This is polyethylene terephthalate (PET). Someone thinks that he is terribly dangerous, and someone is sure that he does not emit any harmful substances when heated.
I do not want to approach everything that somehow affects our life and health, mindlessly. On the other hand, you can go crazy if you listen to all that is said and written.
Stop buying store milk (after all, it is again in harmful bags and bottles), do not use shampoo (from SLS, parabens and their various substitutes, there are many diseases up to the endological ones), refuse to work at a computer and use a mobile phone ( did not bring), etc. etc.
Therefore, I try to keep a neutral position. And also – I identified for myself the advantages that I see in the use of the sleeve.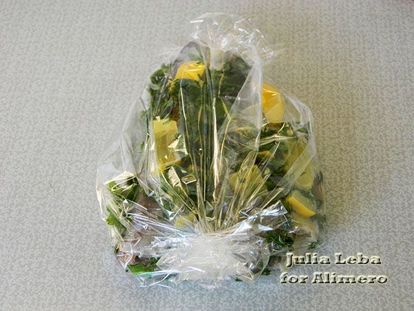 Three reasons to cook in the sleeve for baking
one. You can cook fish, meat, poultry, vegetables in it. Alone or together – to choose from. Potatoes with minced meat, fish with vegetables, meatloaf, baked ham, buckwheat with meat, knuckle in sauce … the list goes on and on!
2 The taste of dishes. This is something between baked and steamed. Juicy, fragrant, useful. Suitable for lovers of healthy food, losing weight and people with gastrointestinal problems.
3 More comfortable than foil. The sleeve is more hermetic, so the dish is saturated with the aroma of herbs and spices. Juice does not follow from it, which is better both for the dish itself and for the hostess – no need to wash the baking sheet. And yet – the sleeve is transparent, so you can visually determine the degree of readiness.
Do you use a roasting sleeve?