Saltison cook in many cuisines of the world. I am sure that Russian, Ukrainian, Belarusian and Polish cuisines are familiar with it. This kind of brawn has a certain feature – no one can refuse to eat at least a piece.
The beautiful name of this dish does not convey the true taste and sharpness. Garlic Saltison with greens is a great addition to main dishes. It can be used as a snack and sausage substitute. Saltison is preparing at home, with no need to know something special in cooking.
To prepare a portion of saltison with greens the following products are necessary:
I only bought a pig's head a few times, but I always bought it from acquaintances of sellers in order to be sure of the freshness of the product.
At home we divide the head into 4-5 parts (here we need a brute masculine strength and a hatchet), pick out the eyes (sorry for the cruelty), thoroughly clean it and soak it in 3-4 waters.
Then we put the pieces of pork head in a large saucepan, pour water over it and send it to boil over low heat for 6 hours. Half an hour before the readiness we throw salt and black pepper, bay leaf.

Parsley wash, give the drain water and chop it finely. Mix with minced meat and lay out in a container (form, pan, etc.), which is pre-covered with food film. Top shelter saltison layer of film and put the oppression (you can do without it).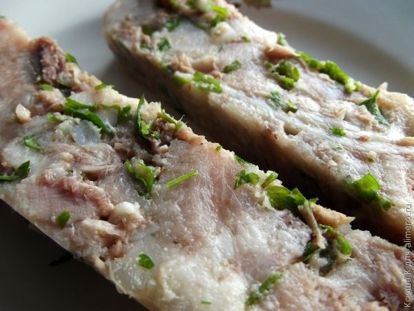 We send saltison in a cold place until it solidifies.
After 2-3 hours, the finished dish can be cut into slices and served to the table. Enjoy your meal!