Salo pickled in brine is a favorite delicacy in my family. To prepare it will take only 3 days. The taste of salty bacon in brine is very delicate. For a small family, the 1st kilogram of such fat is enough for several weeks, or even a month.
I used to have a negative attitude towards fat, because I thought it was harmful. In addition, I did not like to clean the salt from the pieces of fat when used. And it was necessary, because we then salted it only in a dry way, simply sprinkled with a large amount of salt.
I learn the recipe from the mother-in-law
Somehow the mother-in-law treated me with borscht and offered to try her cooked salted lard in brine. I ate a small piece and was very surprised, because the taste of lard was better than the taste of sausage.
I asked my mother-in-law to tell me how to make this beautiful snack, and she happily shared the recipe for salted bacon with me. Since then, in my family from time to time appears in the fridge jar of bacon.
Fat perfectly satisfies hunger. And in winter, even a small piece of it is able to protect against hypothermia. When used in moderation, the fat benefits the body.
For example, although it may seem strange, but lard with garlic helps to clear the vessels from bad cholesterol. Fat is useful for bronchopulmonary diseases, eczema and pain in the joints. In short, if you properly use salted fat, then there will be no harm. As they say in Ukraine: Salo – tse syla.
Try making salted bacon from this recipe. It will certainly please your loved ones.
Ingredients:
Fresh bacon – 1 kg
Salt – 120 g
Cold boiled water – 0.4 l
Garlic – 1 goal.
Black pepper – 1 tsp.
The way salting salo in brine

It is necessary to boil water in advance and cool it to room temperature.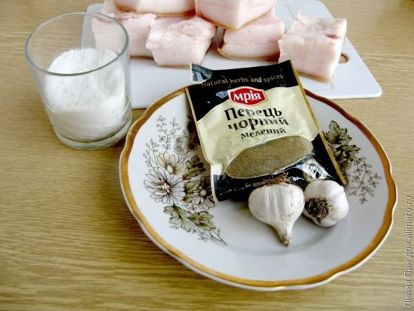 Garlic peel and crush garlic.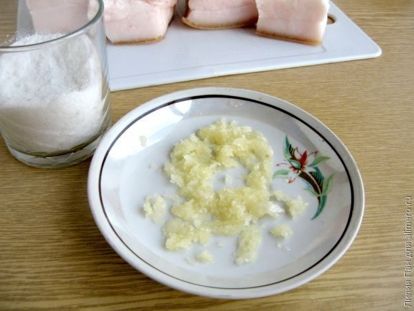 In a jar of salt water, put black pepper and chopped garlic.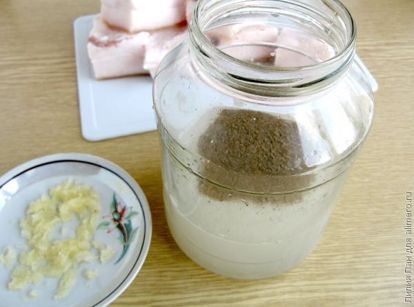 Mix everything and put in a jar pieces of bacon.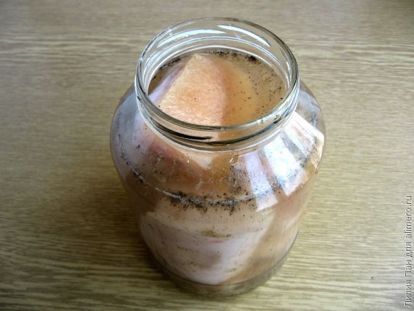 Leave salted lard at room temperature for 2 days. Then put the jar in the fridge. After 3-4 days the fat will be ready.
When you try the bacon and make sure that it is really salted, you can take it out of the jar, wrap it in foil and put it in the fridge. And if you put it in the freezer, then there it can be stored for a long time and get on a piece as needed.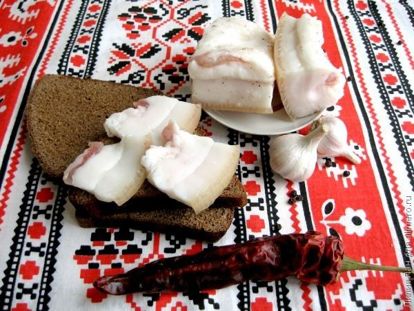 Cooking time: 3 days
The degree of difficulty of cooking: minimal.