Today I decided to play a little with puff pastry. Turned on a little imagination, a little peeked at experienced hostesses, and that's what I did – the delight of my boys and sweets that you can not buy in the store.
Today I was sorely lacking time to make homemade puff pastry, so the ready-made frozen dough helped me out, which often helped me out at such moments: convenient, quick and tasty.
In addition to puff pastry dough, I needed:
I do not cite proportions, since they are purely individual, and you can use any fillings: prunes, raisins, jam, peanuts, almonds, etc.
Now let's start the game!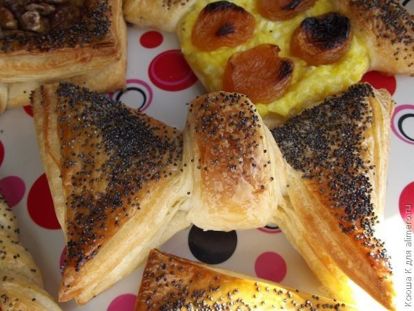 It all starts again with a square puff sheet, which we fold in half (in a triangle).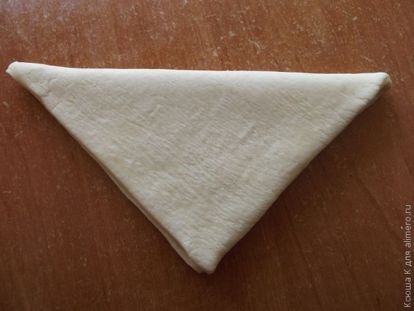 We make these two cuts here:


We wrap the middle part (strip) around the middle of the triangle, and we get a beautiful bow.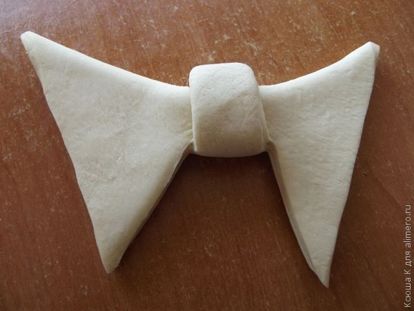 Care


The beginning is the same square of dough.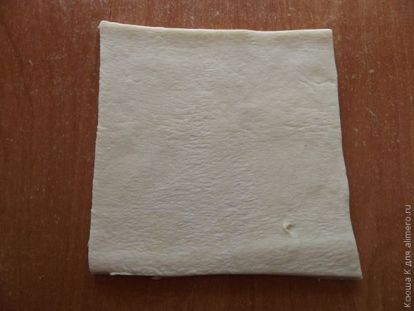 We fold it in half (in a triangle) and make one small razlicik.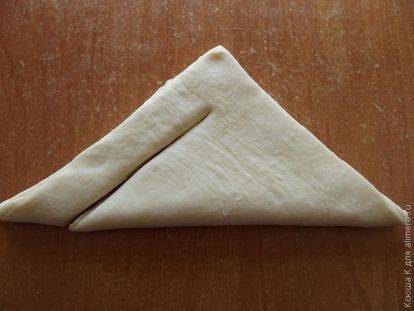 We expand the square back and impose one side of the cut on its uncut part (many words, but everything should be clear from the picture).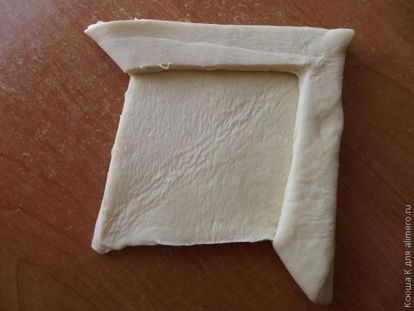 Stuffing – sweet curd with egg.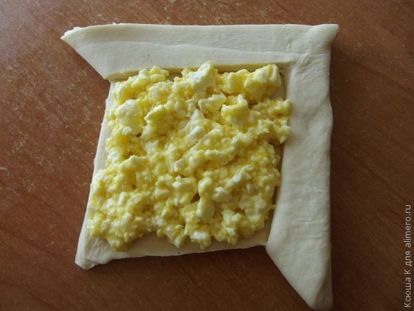 From above we decorate dried apricots.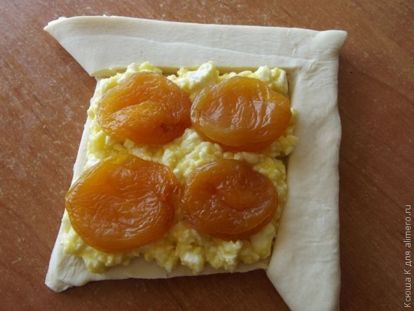 Pigtail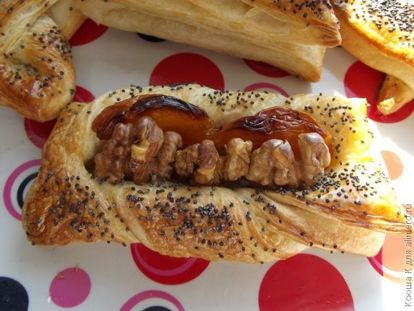 In order not to be boring, this time we take not a square piece of dough, but a rectangular one. Inside we make a cut.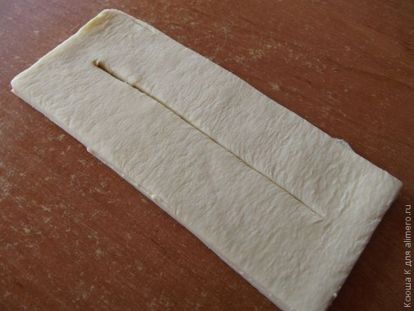 We twist the pigtail several times.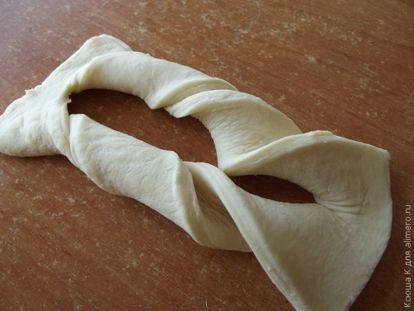 Stuffing – nuts and dried apricots.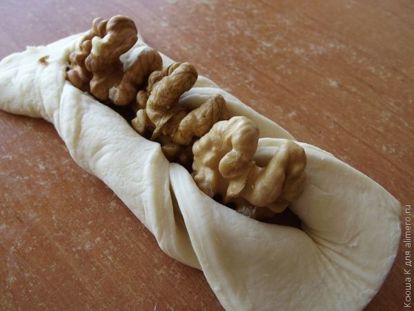 Mesh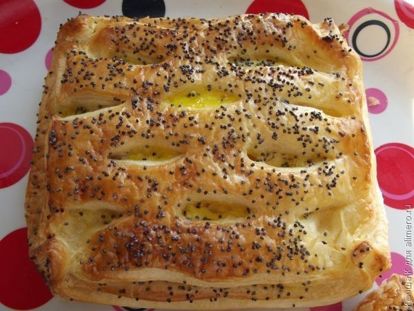 For the mesh, two pieces of dough are needed: square and rectangular, which will be slightly smaller than the width of a square piece of dough.
On a square piece laid sweet cottage cheese with an egg.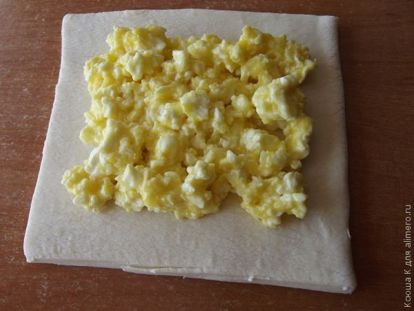 The second rectangular piece of dough is cut in several places in a checkerboard pattern.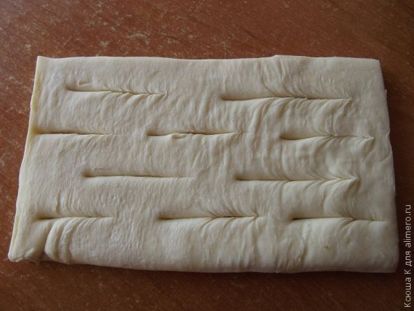 We put the mesh on a square piece of dough with a filling, slightly stretching it on the sides. We pinch corners.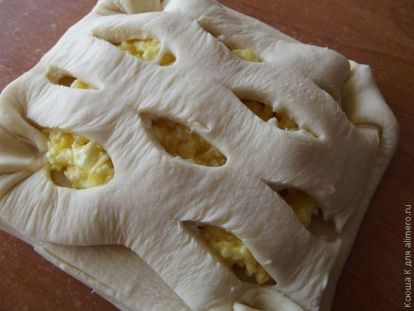 Triangle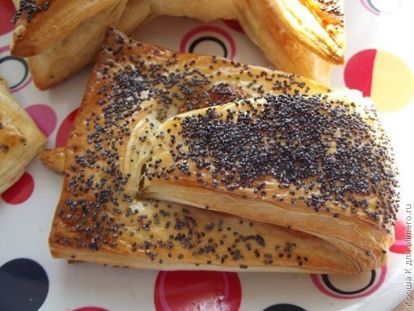 Cut out a long triangle from the dough. At the wide end make a cut, as in the photo.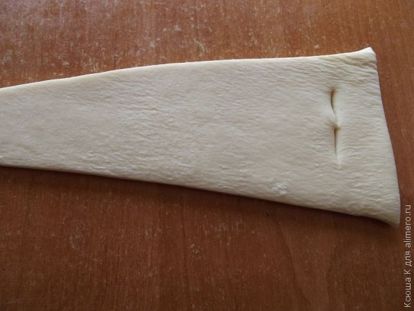 We wrap the thin end of the triangle in the cut, and inside the stuffing – dried apricots.


We spread the beauty on a baking sheet, sprinkle with poppy seeds on top and bake until ready at a temperature of about 130 degrees.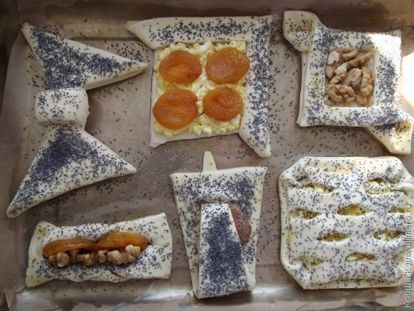 The result is a ruddy, crunchy beauty. Enjoy your meal!