Each hostess in stock has many recipes for meat dishes. Today I want to share with you my recipe. This is a fairly easy to prepare dish that can be served with any side dish or as a separate dish.
This dish is easy to prepare for a very large company, and I am sure that all your guests will like them very much!
Krucheniki can be made with any filling: boiled eggs, cheese, cheese with greens, fried mushrooms, Korean carrots, pieces of bacon with a sour cucumber, ham, various vegetables. Different fillings – different taste.
We will need 10 kruchenikov:
pork tenderloin – 1 kg
salt;
ground black pepper;
Kebab seasoning – 0.5 tsp.
soy sauce – 2 tbsp.
hard cheese – 200 g
flour for breading – 1 tbsp.
vegetable oil for frying.
flour – 2 tbsp.
sour cream – 2 tbsp.
butter – 50 g
meat broth (or water).
We clean the pork tenderloin from the tendons and bones (if any).
Cut stripped cut across the fibers into even pieces.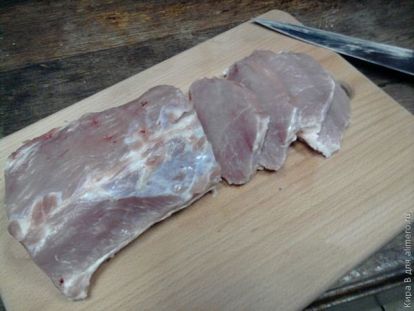 Put the sliced ​​pieces into a bowl, add salt, pepper, seasoning to the kebab (seasoning can not be strewed, it gives a light aroma and flavor to the meat itself), soy sauce and some water (about 100 ml.). Mix everything thoroughly and leave the meat to marinate a little.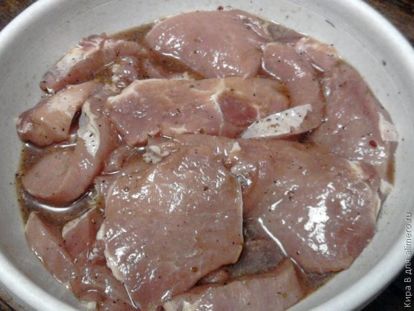 While the meat is marinated, rub the cheese on a medium grater.
Marinated pieces of meat repulse well.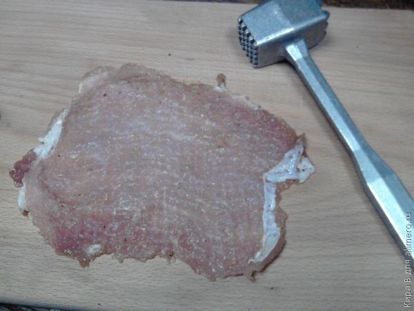 On each chop we put some grated cheese.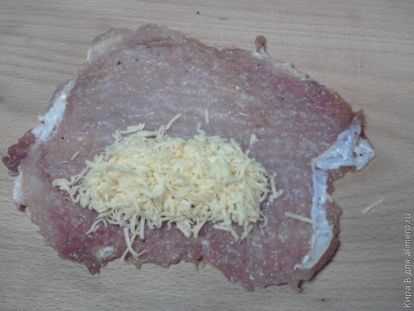 Slightly tuck the edges of the meat.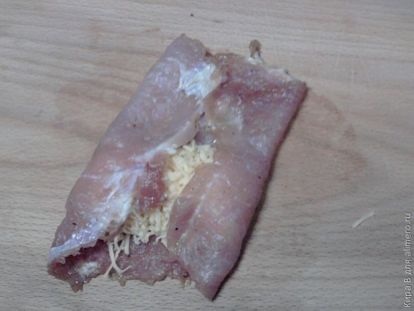 Wrap chop in the form of a thick roll.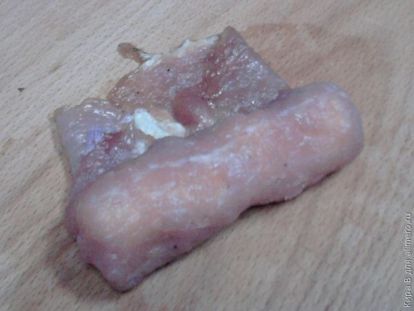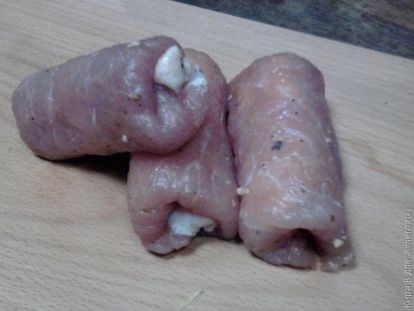 Gently pan the kruzheniki in flour and spread it seam down on a preheated pan. Fry until golden brown on all sides.
Fried krucheniki put in a saucepan or deep cauldron.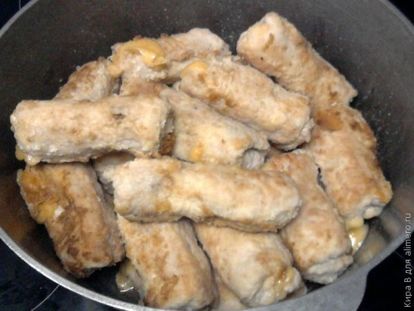 In a deep frying pan, melt the butter, stirring constantly, add the flour and lightly fry it. Pour in meat broth (or water) a little bit, dilute the flour until smooth and add sour cream. Give the sauce to simmer for about 10 minutes, season with salt and pepper to taste. Fill the sauce with the saucers in a skillet.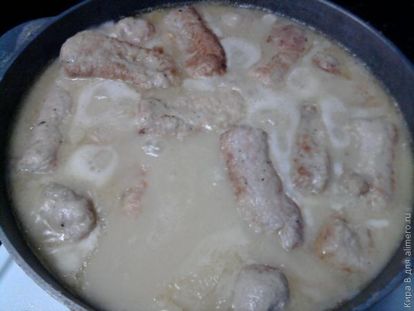 Stew on low heat for 25-30 minutes. Served with fried potatoes or other side dish.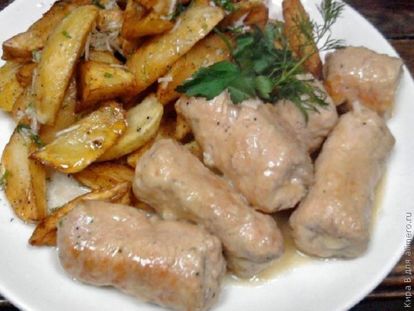 Enjoy your meal.