Lasagna is a national Italian dish. Its filling can be almost anything, it is often cooked with vegetables, but still the classic version is the meat version – with bolognese sauce.
For 6 servings we need:
600 g ground beef
1 small carrot
1 medium onion
3 medium tomatoes
liter of milk
tablespoon flour
50 g butter
wrapping sheets for lasagna
300 g of hard cheese
50 g Parmesan
Cooking time – 2 hours, complexity – 4 out of 10.
Cooking
The whole process of cooking lasagna is divided into 3 stages: the preparation of bolognese sauce, bechamel sauce and the actual layered creation itself.
First of all, prepare the bolognese sauce. To do this, fry finely chopped onion in olive oil until golden brown, and then add a carrot to it.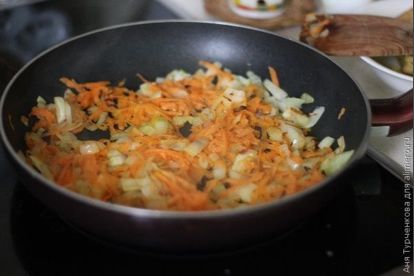 When the carrots are slightly stewed, add the meat and knead it with a fork so that there are no lumps.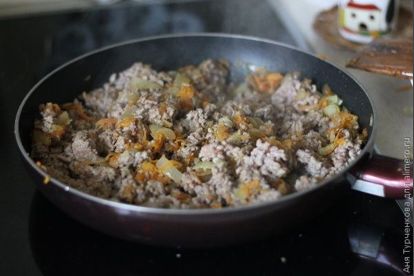 While the meat is stewing (we will need about 10 minutes), beat the tomatoes in a blender. If there is no blender, you can knead them with a fork. For this, it is best to peel them off. To make tomatoes easier to clean, they should be thrown into boiling water for 5 seconds – then the skin will peel off very simply.
When the tomatoes are ready, pour them in to the meat and simmer it all together for approximately 15 minutes. At first, the sauce will turn out to be very liquid, but gradually the water from the tomatoes will boil out slightly, and the meat will acquire a thick texture.
If there are too many tomatoes, you can give the sauce afterwards under the lid, removing it from the heat – it will absorb more juice.
After adding the tomatoes, salt and pepper. It is also a good idea to add oregano – a couple of pinches, and fresh rosemary – 5-10 green leaves.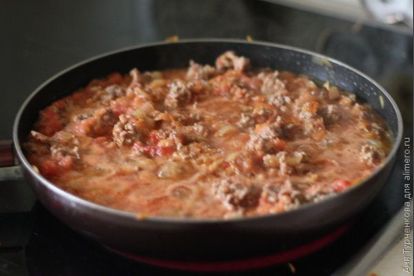 When the sauce is ready, start cooking bechamel. To do this, melt butter in a pan and throw flour into it. Constantly stir the mixture with a spatula so that the flour absorbs the oil and slightly zolotoilas.
When this happens, pour in the milk and PERMANENTLY stirring (this is important!) Cook on medium heat for 10 minutes. The sauce should thicken but not boil over.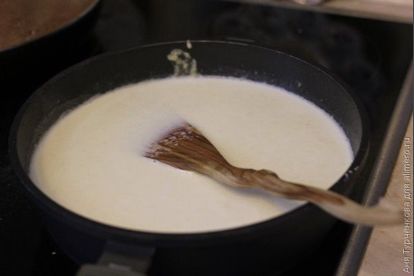 Now three hard cheese and parmesan and begin to lay lasagna in the form. First, pour a few spoons of bechamel on the bottom and put the sheets of lasagna in an overlap so that the sauce does not leak.
On many packages they write that the sheets should be boiled beforehand, but I do not do this – they absorb the sauce perfectly and become completely soft.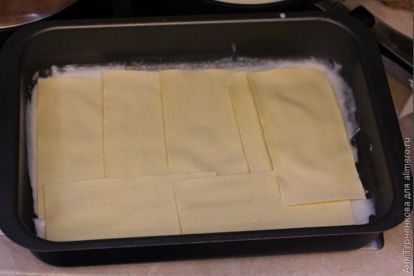 Top with an even layer of bolognese sauce.
Pour it with bechamel and sprinkle with regular grated cheese.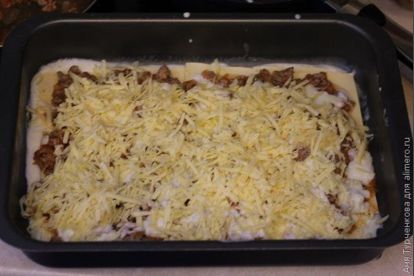 Repeat all layers, starting with sheets for lasagna in the same order. Because of the large shape, I have 2 layers, but the optimum height will be 3-4.
With the most recent we put a layer of sheets, we also pour them with bechamel (especially carefully – it is this layer of dough that risks not to be baked) and sprinkle with grated parmesan.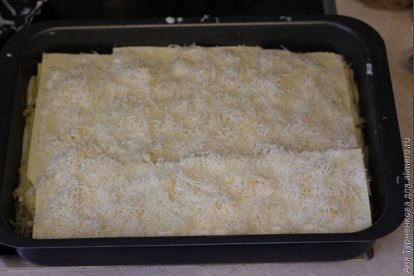 Now put in the oven at 180 degrees for 40 minutes. The cheese on top should have an appetizing brown color, and the dough sheets should be easily pierced through with a wooden stick.